The rocketing prices of the fuel have not stopped consumers going after their dream machines. The SUV segment has witnessed a fierce competition, and why not, with many new entrants in the fray.
We are pitting the Renault Duster against the Mahindra Scorpio.
Ever since it was launched, Renault Duster took the Indian auto scene by storm. With its appreciably tight dimensions, the Duster is the smallest SUV of the two. But with some clever styling elements like the double barrel headlamps blended with a large chrome grille and the flared wheel arches, the Duster looks more appealing.
On the other hand, the Scorpio has been a best seller for many years and continues to be a strong performer for Mahindra. The Scorpio has a stance that is familiar and looks a bit dated when compared to the Duster.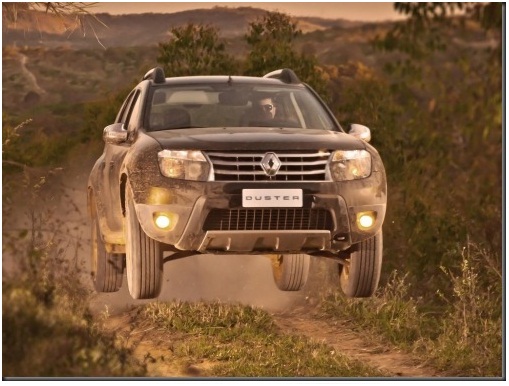 The beige and black colour combination in the Duster's cabin looks a bit too basic. When compared to the Scorpio, the Duster does not have a third row seating. Though the space is relatively lesser than the Scorpio, it accommodates five adults. And the boot space is also at par as the as the spare wheel is mounted underneath.
The Mahindra Scorpio has higher comfortable seats which gives the driver a commanding view of the road. The interiors are a bit dated and the wood accented centre console on the dashboard appears old. There are a few odd features like the power window switches located between the front seats. Though the front row has enough space, the second row feels less spacious for an SUV of this size. The last row of seats is only comfortable for kids but can be folded away for a larger boot space. The Mahindra Scorpio is a seven seater SUV.
Available in both petrol and turbo diesel engine options, the Duster is compact and fuel efficient. Of the three engines, the petrol is a 102.5 bhp one. The two variants of diesel are a 84 bhp one and a 110 bhp one. The Duster is considered to be one of the more affordable crossovers sold in India. The Duster also brings in a higher level of finesse and finish when compared to what's offered on the home grown SUVs belonging to Mahindra. Compact and fuel efficient, the Renault Duster is an ideal option for the urban SUV buyer and starts at 7.17 lakh rupees.
The Mahindra Scorpio is available with three turbo diesel engine options – 2.5 M2DICR, 2.6 CRDe and 2.2 mHawk – and with two body styles – SUV and twin cab pick-up truck. The Scorpio starts at a price of 7.83 lakh.
For more information on new cars & bikes log on to – http://autoportal.com/ & http://bikeportal.in/