Sports fans of the NFL, MLB, NBA, and even of futbol overseas hold a certain standard for the way they cheer on their teams, watch the games, and celebrate. Each game or match is important to the dedicated fan.
Prior to attending a professional or collegiate sports game, fans must truly support their teams in the right fashion. If you're a newbie or seasoned tailgating professional, you may want to consider these tips for creating an unforgettable tailgate.
1. Bring Portable Tents and Tables
Tailgating takes place at all hours of the day depending on the sporting event. Nascar fans are known to tailgate for a week prior to the race. American football fans show up at 7 AM to wait for the stadium parking lot gates to open and grab an ideal spot to set up. Fans are locked, loaded, and ready to party/support their teams.
Bringing foldable tables and tents is a necessary move to prepare for any weather scenario. Perhaps it rains or you're hit with high temps that leave you sweating. Tents protect you, friends, and the food from excessive sun exposure and wet weather. No one wants to feast before and during the game on soggy hamburgers and hot dogs.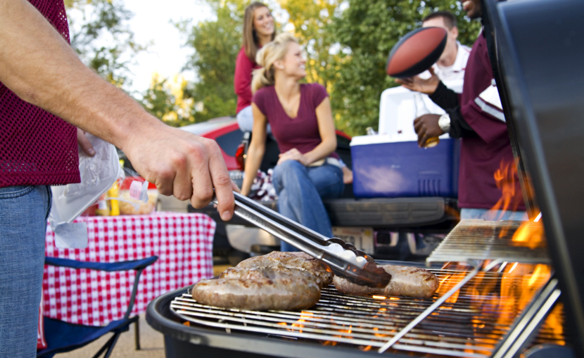 2. Pack the Right Treats
When we say "treats" it's not referring to sweets and desserts. No, bring along a nice aged whiskey to sip on or toast with after the game. A tailgate without fine cigars, isn't complete. Perhaps, choose the right cigar for you and your fellow die-hard fans from Gotham Cigars. Relaxing with a nice stogie always settles your wits, concerns, and anxieties before a big game.
3. Stock Up for the Open Bar
It doesn't matter if the tailgate starts at 8 in the morning. It's never too early to crack a fresh beer or tap a keg of premium craft beer. If the beer or mixed drinks prove a little too heavy for the early morning hours, then pack the goods for unlimited mimosas or Bloody Mary's.  An early morning cocktail will set the mood for a nice pregame party before heading into the stadium. There's nothing better than sipping on a Bloody Mary, watching pregame analysis, and checking your fantasy football lineup.
When packing for the tailgate, do not forget to assign someone the task of bringing coolers and plenty of ice. Warm beer on a hot day isn't the same. Friends will always remember the guy who hosted a tailgate with warm beer. Also, if a keg joins the party it's essential to keep it cold at all times for the beer to properly flow.
4. Charcoal, Wood, or Propane for the Grill
You may be bringing one monster grill or a small portable Weber grill to the pregame party. But do not forget the fuel for your cooking apparatus. If you have to leave the stadium to fetch propane, charcoal, or wood, this will set your tailgate back. People may not have to time to eat before the game. You can't imagine the traffic you could hit on the return trip to the stadium parking lots.
Also, when deciding what type of grill to use to cook the baby back ribs, NY strip steaks, burgers, or barbecue chicken, choose what's most convenient for you. Experienced tailgating professionals rely on propane, but the absolute experts use wood grills. Slow cooking over a wood fire is the best way to grill.
Image Source – drivethenation.com