Halloween is fast approaching, which means there's plenty of ghoulish inspiration around to inspire your craft projects. And why not? It's never a bad thing to get into the party spirit and celebrate seasonal occasions with your creativity!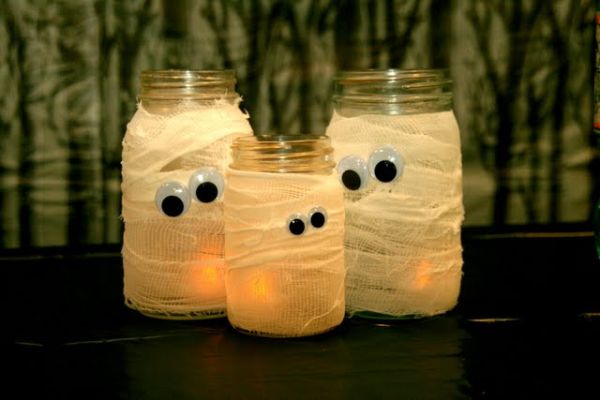 Whether you are looking for fun Halloween themed crafting to enjoy with the kids, a cheap way to make decorations for your Halloween party, or simply fancy trying some themed crafting, here are some hauntingly fabulous Halloween craft ideas for you to try out:
Die Cut Shapes
If you're looking for a lot of paper decorations to put all over the house, and you own a die cutting machine, why not create your spooky shapes the easy way?
You will need a Halloween themed die of course, but there's plenty about and you will be able to use them again year on year. You could create a flock of bats to stick all the way across a wall, ghosts, pumpkins, or precisely cut spooky happy Halloween lettering. Paper die cut shapes are a cheap and easy way to create fantastic Halloween decorations.
Gothic Art
Why not buy some cheap frames from a carboot or charity shop and frame doilies, spooky photos or pictures you have created yourself, or even mugshots of your family pretending to be The Adams Family, convicts or spooky Halloween characters. Paint the frames black, orange or dark purple and hang plastic spiders and cobwebs off them for full effect. You could even display them in the loo or somewhere else people won't expect to see them.
Paint Pumpkins
Carved pumpkins look beautiful but can be time consuming and messy to create. Consider painting Halloween scenes onto your pumpkin for ease. Maybe you could paint the face of one green and draw a witches face adding a hat and wig for extra effect? Or you could draw bats all over the pumpkin using black marker pen. Think of the pumpkin as the ultimate Halloween themed canvas.
Spooky Candle Holders
All you need to do is take some empty, clean jars and paint them ensuring you leave gaps for the light to shine through. For example: you could paint the jar orange leaving eyes and a mouth with the neck of the jar painted green. When you put the jar up it will look like a cool pumpkin jar, when you burn a candle in it at night all people will see is the glowing eyes and mouth, just like a pumpkin with a candle in it. You could also paint the candle holder black, leaving cats eyes, nose and mouth without paint on, then stick ears on the side to make it look like a spooky black cat.
Net Curtain Ghosts
Blow up a balloon and tie a net curtain around it, securing it at the neck of the balloon with string or an elastic band. The material hanging down should be shredded or cut into points. Then simply stick a ghost face on using cut out card, or draw it on with black marker pen. Hang on trees or bushes by string threaded through the net at the top of the ghosts head or by string around the neck of the balloon.
Graveyard
Using old foam swimming floats or bits of wood, why not create your own graveyard? Using high quality paints from Handy Hippo Crafts, paint the gravestones grey, let them dry, then go wild adding names, funny 'here lies' poems and spooky sayings. This will work best if you have a patch of soil where you can partially dig the gravestones in. Alternatively, add weights to the bottom and place across the grass, placing flowers or cheap plastic flowers next to the stone to cover up the weights.
Lace Wrapped Candles
if you have some old stick candles laying around, or you can get some for low cost, there's one great way to make them halloween themed – wrap black lace around them. You only need a small roll of black lacy ribbon from your local haberdashery stall and some non-flammable glue to complete the look. Simply wrap around once (so you can still see the candle in between) and then adhere the edges to the candles. Wala – instant gothic chic!