Football has come a long way from the kickabouts where it started. It has grown into a multibillion-pound industry watched by millions around the world. Not bad for a game that just involved people kicking a pig's bladder about a field or street. As the game developed there was soon a need to step up the organization and the first clubs started to emerge. You can bet these football pioneers would have jumped at the chance of some Football Training drill Videos not they had the internet in the nineteenth century.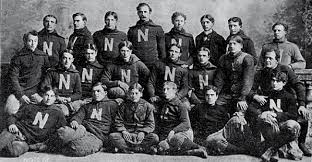 And it is to the eighteen hundreds that we have to go to find not only England's oldest club but the worlds. It is Notts County who hold the honor of being the very first football club. Playing in black and white Stripes, as they still do today they earned the nickname the Magpies but they are more commonly just known as Notts or Pies. They began in 1862 and have experienced pretty much all it is to be a football club from being in all four divisions to winning the FA Cup at least once. They have been up and down the leagues plus even out of it and suffered financial hardships on several occasions. Amazingly they have survived even providing the kit colors for a team that has had a bit more success Juventus.
Following closely behind is the Stoke Ramblers, or Stoke City as they became, being formed in 1863. Like Notts, they have only one major trophy to their name the league Cup in 1972 and have also yo-yoed their way through the leagues. The there most famous player is Stanley Matthews who is a giant of the game in the 30's and 40's and the club have been considered a top club even if they haven't been able to match the history.
Just down the road from Notts County is Nottingham Forest or just plain old Forest. Formed in 1865 they of all these clubs have tasted the success of a First Division win in 1977 where they were led by one of the greatest managerial duos ever Brian Clough and Peter Taylor. They also guided the team to two European back to back cup victories and the FA Cup twice, though never under Clough who had won them everything else including the European Super Cup.
Finally, we have Sheffield Wednesday, older then there great rival Sheffield United, being founded in 1967. They are so called as they only played on Wednesdays as this was the day off for the players and they could only make it then. The Club now plays on Saturdays with the rest of the teams in the league. They too have yo-yoed there way through the leagues but they have tasted cup success by winning the First Division four times and the FA Cup three times. They are the best domestically of the originals.