According to Neil Tennant, people become emotionally frozen at whatever age they become famous. Michael Jackson was forever doomed to be age 10, and Van Morrison will never quite shake off the grumpy teenage frontman for Them. Yet Sting was already an articulate, erudite man, a 27-year-old who paid rent and taxes and had had other lives before he made it big as a frontman for the Police.
Sting was responsible for everything from "Roxanne," "Every Breath You Take," and "Message in a Bottle" while with the new wave band. But while on stage at Shea Stadium, he decided to leave the band — he felt that venue was Everest, and they simply couldn't go any higher. (The band reformed for a world tour in 2007, partly because Sting felt he owed a debt to his old bandmates. Sting has told the press that the tour was "a fucking great payday for them.")
Sting's first solo album was The Dream of the Blue Turtles, backed by jazz musicians, and released in 1985. It went Triple Platinum within a year, receiving four Grammy nominations. He went on to put out a series of successful solo records, including 1987's Nothing Like The Sun, 1991's Soul Cages, 1993's Ten Summoner's Tales, and 1996's Mercury Falling. He recorded a wildly diverse range of music in this period, everything from intriguing instrumental pieces to upbeat popular songs to haunting ballads. His success on the charts was marked by singles such as "Fields of Gold," "If I Ever Lose My Faith In You," and "Englishman in New York."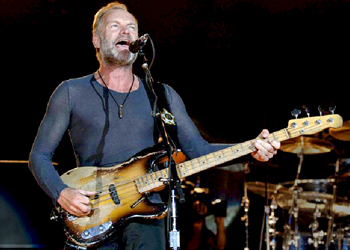 Sting didn't stop at musical experimentation and exploration, he also found some time for acting during this period. He appeared in the 1984 science-fiction drama Dune, in the very popular 1998 British crime movie Lock, Stock, and Two Smoking Barrels. He also worked on soundtracks for 1998's The Mighty, 1999's The Thomas Crown Affair, and 2000's The Emperor's New Groove.
Sting's most popular solo album so far came out in 1999, called Brand New Day. It starts off with an optimistic title track (which won Sting a Grammy for Best Male Pop Vocal Performance) that brought Sting world-wide acclaim. More recent albums include 2001's All This Time, 2003's Sacred Love, and 2006's Songs from the Labyrinth — a recording of 1600s-era English music.
His most recent effort is the musical, The Last Ship, which tells the story of the Newcastle shipbuilding industry's demise. The musical debuted in Chicago earlier this year and is now playing on Broadway. The studio album for the musical came out in late 2013, tickets for Sting concerts for this album were particularly scarce as he performed the album in a series of small benefit shows.
Sting has been involved in a variety of causes outside music, most notably Amnesty International. Sting performed at the 4th Amnesty gala, "The Secret Policeman's Other Ball" in 1981, and he followed on by playing at many of Amnesty's other human rights concerts from 1986 to 1998. He also notably canceled a concert in Kazakhstan after Amnesty International persuaded him there were serious concerns about rights of oil and gas workers in Kazakhstan.
Sting has been married to his wife, Trudie Styler, since 1992. They have four children, and Sting has two more children from his previous marriage.