Every year the NHL welcomes a new generation of young stars that are looking to make their mark in their first season in the league, and every year it's the fans that benefit the most. The very best of them is awarded the Calder Memorial Trophy at the end of the year, which serves as the rookie of the year award in the NHL. There are a number of rookies that have made a splash early on this season, but three players have established themselves as clear favorites to win the award. For the full list of NHL futures, check out Payperhead.com.
At the top of that list is Colorado Avalanche center Nathan Mackinnon, who leads all rookies with 15 goals and 29 points in 46 games. There was never a question for the Avalanche about whether or not Mackinnon would enter the league immediately, and he has lived up to all expectations to this point. Colorado is deep at the center position with Matt Duchene and Paul Stastny, which relegated Mackinnon to third-line duties. However, that may actually help his development as a complete player, as he has been forced to be a better two-way player in a checking role at times. He has also gotten more time on the powerplay, with seven goals and 10 points playing with the man-advantage this year. Mackinnon is a star in the making, and everything he has done this season has separated him from the pack as the favorite to win the Calder Memorial Trophy.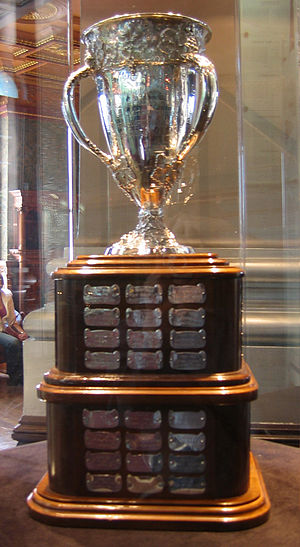 Right behind Mackinnon on that list is New York Rangers' rookie Chris Kreider, who entered the league without the same hype, but has clearly established himself as a top rookie. Kreider has 12 goals and 27 assists through 41 games, and perhaps most impressive is that he is a plus-11 on a Rangers' team that has been through its share of highs and lows. Kreider doesn't get the same attention that Mackinnon does, but he is right there in the mix for the Calder Memorial Trophy, and a strong second-half could boost him in to winning the award.
One more player that has played himself in to contention for the Calder Memorial Trophy is Tampa Bay Lightning center Tyler Johnson, who has done his best to fill the shoes of Steven Stamkos since he was injured. Johnson was never expected to play such a big role for Tampa Bay, but when Stamkos went down it was him that was moved to the top line with Martin St. Louis, and he has done an excellent job. Johnson is right there with Mackinnon and Kreider near the top of the rookie-scoring list with 12 goals and 26 points, and he is a plus-nine. Johnson is another excellent two-way player that can do it all, but he won't have as big of a role once Stamkos returns, which clouds his position.
While Mackinnon, Kreider, and Johnson are at the top of the rookie-scoring list, San Jose Sharks' winger Tomas Hertl could climb his way back in to the mix if he performs the way he did earlier in the year if he can return. There have been rumors that Hertl may not be able to make it back from a knee injury, wiping away a torrid start. Mark Scheifele, Torey Krug, and Alexander Barkov have all had impressive seasons as well and are worth keeping an eye on the rest of the way, as the best first-year players continue to make their case for the Calder Memorial trophy. For a full list of NHL futures, check out Payperhead.com.
Jonny Doveless is an online sports betting enthusiast who was recently searching for the best software to help him manage his own betting services online when he came across Pay Per Head's amazing sports book management software. He highly recommends http://payperhead.com to any of his followers looking for an efficient and effective way to manage their own sports books.