Andrew Roth is a 5 year recovered alcohol-addict who has turned his written memoir into a one man performance piece in New York City. The actor/producer is set to perform the 90 minute live biographical performance with original music.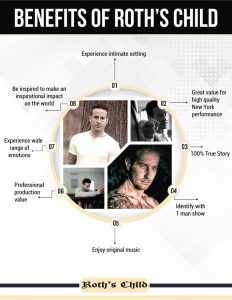 "Roth's Child – A Memoir" tells the story of Roth journey through life as he struggled to cope with effects of mental and physical abuse he suffered from his childhood. The show explores deep into how his childhood affected his life into adulthood turning Roth into an abusive addict of drugs and alcohol. Also affected by his poor upbringing is his relationships and his extension of violence into the lives of those he hated as well as those he loved.
This memoir hopes to achieve the following goals 
Acceptance 

Compassion 

Healing 

Overcoming weakness 

Affection 

Forgiveness of self and others 

Lover of self and others 

self-awareness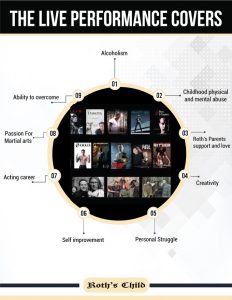 This memoir hopes to inspire the viewers with deeper understanding into the mind of the addict and unite those who are not afflicted with the disease of addiction into love, compassion and affection for those who are. He hopes to show people that when we share our pain and suffering, as well as our joy, we heal one another and connect on a deeper level. 
Roth's Child is set to offer the audience; 

Experience of intimate setting 

Inspiration to impact on others 

Great value for high quality performance 

Experience wide range of emotion 

100% true story 

Original music
Andrew Roth's electric personality tugs at you throughout the performance. Roth makes you reflect on your life in ways you never thought during the show and much after the performance ends. Get ready to feel a wide range of emotions for a long lasting impact on this world.
About the Author:
Sameeha is a blogger who has a love for creativity and enjoys writing about film, TV, and Music.