John Wooden is considered a role model for young coaches everywhere.  Wooden won ten NCAA national championships as a head coach at UCLA.  Seven of those were won consecutively and his teams won an amazing 88 straight games.  Anyone who is savvy on leadership role models, or has a sport management MBA,knows his coaching legacy is unparalleled.
Wooden began his sports career in Martinsville, Indiana where he led his high school team to three straight state championship finals including a championship victory in 1927.  He then attended Purdue University where he won a Helms Athletic Foundation National Championship.  He accomplished this feat in 1932, exactly seven years before the creation of the NCAA Men's Division I Basketball Championship.  Wooden is one of three men to be enshrined into the Basketball Hall of Fame as both a player and a coach.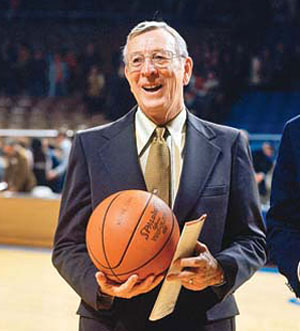 Shaping character
Wooden's off-court accomplishments served to shape his character.  He nobly served in the U.S. Navy during World War II.  He achieved the rank of lieutenant after three years of service.  Young coaches should follow in Wooden's footsteps by embracing such life challenges outside of sports.  These experiences provide you with a breadth of knowledge and develop your leadership skills. Your coaching messages will carry more weight if backed by a personal history of success when faced with adversity.
This includes starting at the bottom like Wooden did.  He began his coaching career as a high school coach in Dayton, Kentucky where he cut his coaching teeth over the course of two years.  His only losing record in his coaching career came during his first year at Dayton when he went 6-11.  Wooden paid even more dues when he moved on to teach English and coach basketball at South Bend Central High School in Indiana.  He coached there for nine years before entering the service.
Wooden is most famous for his personable reputation.  He was the definition of a "players' coach".  He spoke concisely and cogently, providing words that carried inspiration.  Wooden's players held him in such high regard because he acted not only as a coach but also as a father figure.  He became so popular and successful that his identity transcended the game of basketball.
Conceptual pyramid
Wooden's creation of the "Pyramid of Success" was central to his multifaceted influence on American life.  This conceptual pyramid was designed to shape his players into successful men both on and off the court.  It was built with maxims that served to help his players win the game of life.  Some of them were: "Failing to prepare is preparing to fail", "flexibility is the key to stability" and "perform at your best when your best is required. Your best is required each day".  These statements were incredibly marketable because they are universally applicable to sports, business and politics.  All young coaches should attempt to mimic Wooden by broadening their appeal to as many audiences as possible.  You are not only a sports coach.  You are also a public figure and a businessman.
Wooden's pyramid concept was so popular that corporations hired him to speak at lectures and act as a spokesman for their products.  This is the type of influence that young coaches should strive for. You should never limit yourself to influencing only the small handful of athletes on your team.  Your lessons, messages and themes should be overarching and philosophical enough to extend to realms outside of sports.
Wooden is the personification of persistence, diligence and patience.  Young coaches should learn from his ever twisting path to success.  Fortune, fame and success are never immediate.  They are earned over time through the seizure of opportunities and the overcoming of obstacles along the way.