When you go on a vacation to another country, such as Thailand, it can be beneficial to attempt and blend in with the locals. Blending in allows you to experience the country in a way that a typical tourist may not be able to.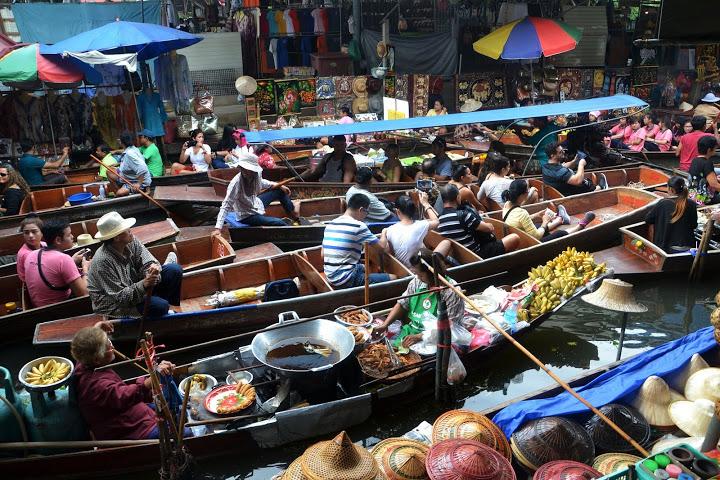 Here are 5 experiences that you should make a part of your itinerary as you plan your trip to Bangkok.
#1 – Take a Motorcycle Taxi :
The crowded streets of Bangkok can be hard to get around on your own. Some of the main thoroughfares are jammed with traffic throughout the day. Tuk-tuks and rental vehicles can get stuck in traffic jams, cutting down on the time you have available for sight-seeing and entertainment. For a quick trip, take a motorcycle taxi.
Known as "motorcy", motorcycle taxis offer the best solution for getting from point A to point B quickly. They are cheap, quick, and provide a great experience.
In addition to the motorcycle taxis, you should consider taking the Bangkok Mass Transit System to get across greater distances. The transit system will also give you a good view of the city from a perspective not often seen by tourists.
#2 – Rent a Bicycle :
Another option for getting around the city is to rent a bicycle. The Pun Pun bike program is a convenient way to have your own simple mode of transportation. You will find Pun Pun stations at about 50 different locations throughout Bangkok. You can register online and then pick up a Pun Pun card from a station.
Pun Pun bikes are easily identified by their green color. This makes it simple to spot one of the many stations. The bikes are docked along the side of the road. You can use your card and a PIN code to unlock a bicycle. The bicycle releases from the docking station and is then available for your use.
You can ride for 15 minutes for free. After the 15 minutes, you are charged by the hour, but this can still be an affordable mode of transportation. The cost is about 10 Baht per hour. Make sure that you return your bicycle before 8PM – otherwise, you will be charged an overnight fee.
#3 – Visit Chinatown :
Every major city seems to have their own Chinatown. Bangkok is no exception. Yaowarat is the name of the neighborhood serving as Chinatown in Bangkok. Here you will find a selection of Chinese restaurants. There is something for everyone. Along with restaurants, you will find herbal shops and other small stalls in this neighborhood market.
The Chinatown area of Bangkok is one of the oldest areas of the city. It has been a major trading area for the Chinese for over 200 years. Traders would operate their trade business off the Chao Phraya River. In addition to restaurants, you will find stationery, souvenirs, textiles, garments, gold, and even electronics and antiques. The various shops offer a diverse assortment of goods.
Near Yaowarat Road is the Indian market. If you want a large selection of Indian cuisine, then visit the Phahurat market. You will find a similar diversity of shops in the Phahurat market. The main difference from the Chinatown markets is the cuisine.
#4 – Visit Rooftop Gardens :
You do not need to get out of the city to get away from the crowd. Take a trip to the fifth floor of the Helix tower. There you will find EmQuartier's Rooftop Oasis. This garden of plants, trees, and even a waterfall offers a relaxing detour from the busy city streets. Another spot is the rooftop of Siam Square One. Another large rooftop farm, this second location actually offers lessons that teach you about local urban farming.
#5 – Browse the Street Markets :
There is never a shortage of small markets and shops to explore throughout Bangkok. Any time of the day, you can find whatever you need at the many street markets. Green Market is one of the top markets at the moment, but there are plenty of other locations to check out.
These markets provide a better shopping experience than heading to the malls and gives you respite from the typical atmosphere found at the more crowded tourist destinations.
Hopefully, you will be able to use these suggestions during your vacation to Bangkok. Obviously, there is much more to see and do than what was covered in this list. If you really want to experience Bangkok and blend with the locals, you will need to spend some time in the city.
By getting away from the places that tourists flock to, you can gain a better sense of what the city is like. You will find more interesting details about Bangkok by exploring it on your own. Keep these experiences in mind as you come up with ways to enjoy your trip to Bangkok.
Author Bio – This guest post is written by Jack Benson in support of FerrySamui.com, a popular ferry agent. If you're on the lookout for a ferry ride from Koh Phangan to Bangkok, do get in touch with Ferry Samui today.