Understanding Customer Relationship Management
The purpose of CRM software is to allow businesses to seamlessly build and maintain relationships with current and future customers. Nowadays, CRM software has come a long way  from a mere contact management tool to become a powerful platform that allows business professionals to manage sales, marketing, accounting, vendor relations and many other forms of customer data from a single, available and intuitive solution.
From the perspective of growth, CRM products are valuable in sourcing leads, following up with potential customers and nurturing them within the sales funnel. CRM software is also valuable in maintaining customer loyalty by allowing businesses to tailor the customer experience to the end users and through providing outstanding customer support.
There are several software platforms that are able to achieve the same results for businesses. However, the real advantage of CRM solutions is that they are able to accomplish all of the same tasks automatically in a single platform. They are also able to consolidate data from many other internal business sources with almost no extra effort. In general, CRM software grants businesses the capability to achieve rapid growth all from within a centralized intelligent and scalable location.
The Benefits of Customer Relationship Management Software
The benefits of deploying CRM platforms extend far beyond daily task oversight. They allow businesses to keep track of vital customer information while simultaneously boosting sales. CRM platforms allow businesses to stay focused on the big picture. They also enable sales teams to be more productive and efficient, thus saving considerable time and money. In short, deploying a CRM software solution allows businesses to:
Save time: This is perhaps the most obvious benefit of using CRM Through automating a sizable volume of sales and marketing operationsCRM software allows sales and marketing teams to focus more time on growing the business, not on manual and repetitive tasks. As an example, a key feature of CRM platforms is the ability to automatically follow potential deals throughout the entire sales process so staff members do not have spend time with manual follow ups.
Save money: Less time spent on completing tasks means less resources required to complete them. This time savings generated by deploying a CRM solution are immediately translated into money savings. Additionally, CRM platforms are generally far more affordable for small and medium businesses when compared to other business solutions that can do similar tasks. Deploying a single and comprehensive software is far cheaper than implementing and integrating several tools to achieve the same result.
Improve email marketing: CRM software enables businesses to harvest significantly more leads through comprehensive email marketing. This includes a wide range of powerful email marketing features such as customized and profile based email shots, along with detailed email interaction reports covering opened emails, clicks through email message, opting out of mailing lists, bounces and spam avoidance.
Deploy custom features: Many CRM software platforms come pre-built with an exhaustive list of additional features and capabilities to serve different business sectors. Additionally, many CRM platforms have the inherent capability to integrate with 3rd part software providers to extend the capabilities of the deployment, such as automated billing, project management, accounting, inventory management and many other powerful features.
Achieve organizational and team goals: Modern CRM products allow business staff members to monitor their own performance. For example, they grant employees and teams real time information about quota achievements, commissions, total potential deal values and additional important sales information from within the platform's dashboard. Such information presents an accurate portrait of the individual, team and organizational sales pipeline at its various stages.
The Leading CRM Products
CRM solutions come in many flavors and from a wide array of software providers. The most successful modern CRM platforms are those offered by online CRM software providers. Below we take a quick look at some of the best CRM software platforms available in the market today.
Bpm'online
Bpm'online CRM is a world leading CRM software solution that streamlines the complete customer journey starting from lead generation across to order and post sale support. Bpm'online products are powered by a very capable BPM platform that allows processes in bpm'online to be changed on the fly without any programming experience. Bpm'online delivers the flexibility to continuously analyze, alter, and optimize all processes in response to any changes in the business environment. Bpm'online has been in business for over 13 years, offering some of the industry's best products to world renowned customers and has been consistently rated as one of the world's leading online software providers. Bpm'online CRM is available in both on premise and online deployments.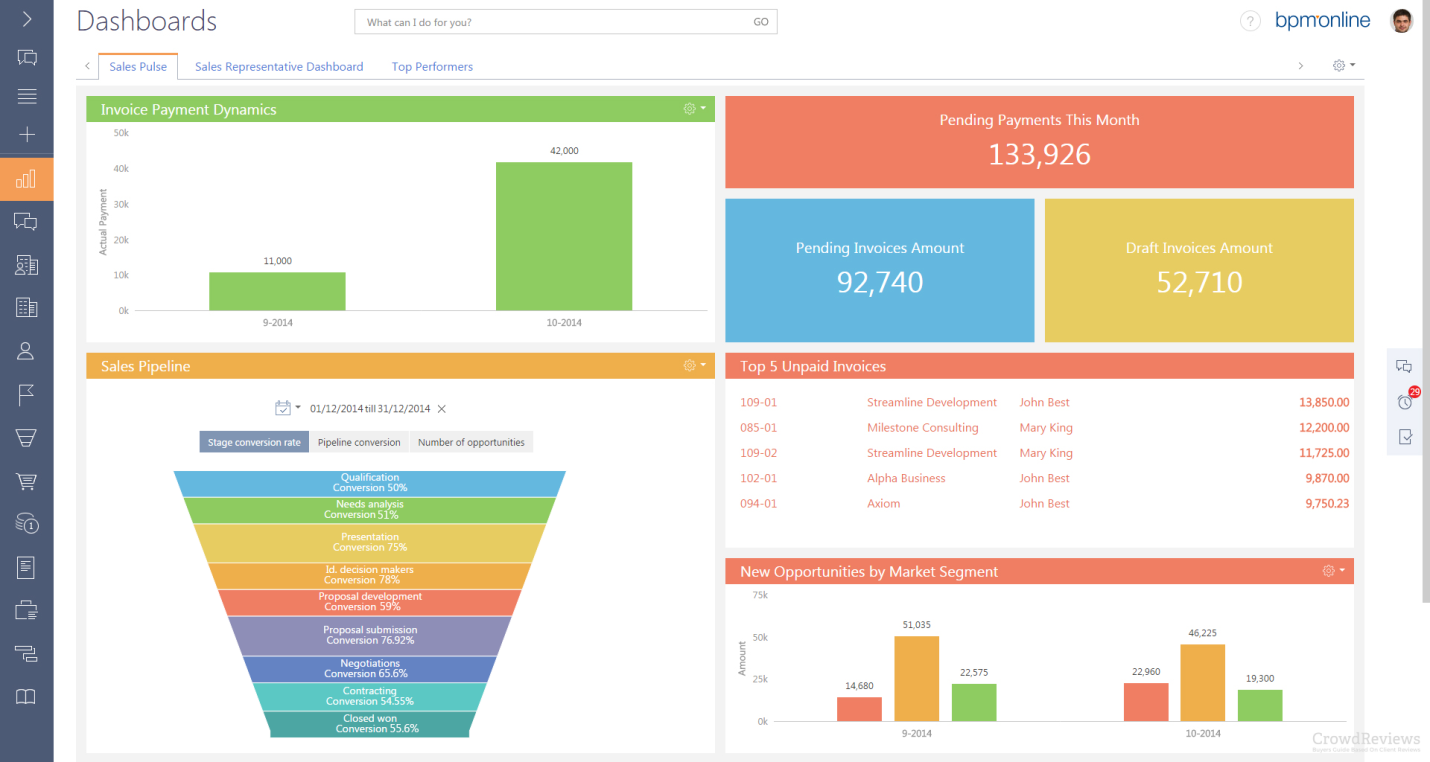 Salesforce
Salesforce is an online software platform that provides everything a business requires in a CRM solution. Though is typically chosen by large enterprises, Salesforce's small business edition allows businesses to reap the full benefits of the platform's wide range of CRM tools and services at affordable rates. The platform is user friendly and provides core functionalities such as lead generation, opportunity management, contact management, forecasting and workflow automation. It is available only online as a software-as-a-service and has robust 3rd party integration capabilities.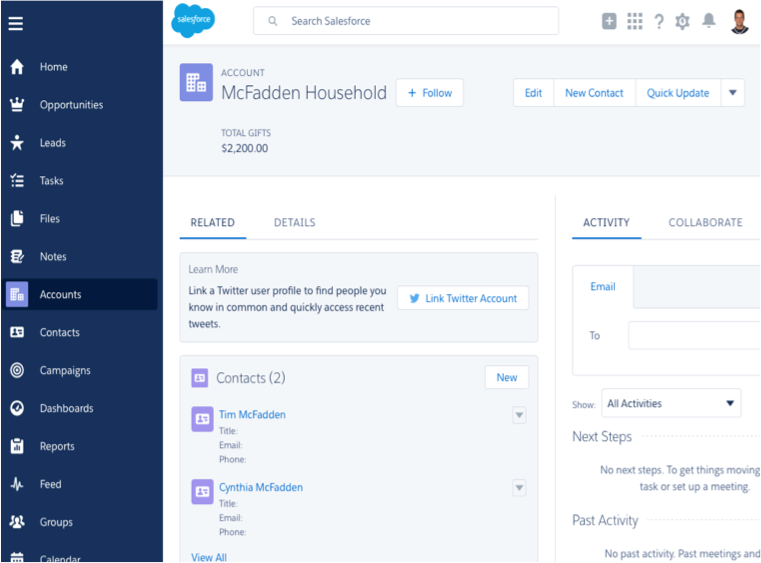 Zoho CRM
Zoho CRM is a popular online CRM solution that packs significant features for the attractive price of free. Zoho CRM stands out among other free CRM providers by offering all of the basic features typically found in online CRM platforms for up to ten business users at no additional cost. With Zoho CRM's mobile app, employees gain access to sales information anytime and anywhere. Additional features and users are charged, yet affordable. Like Salesforce, Zoho CRM is only available online.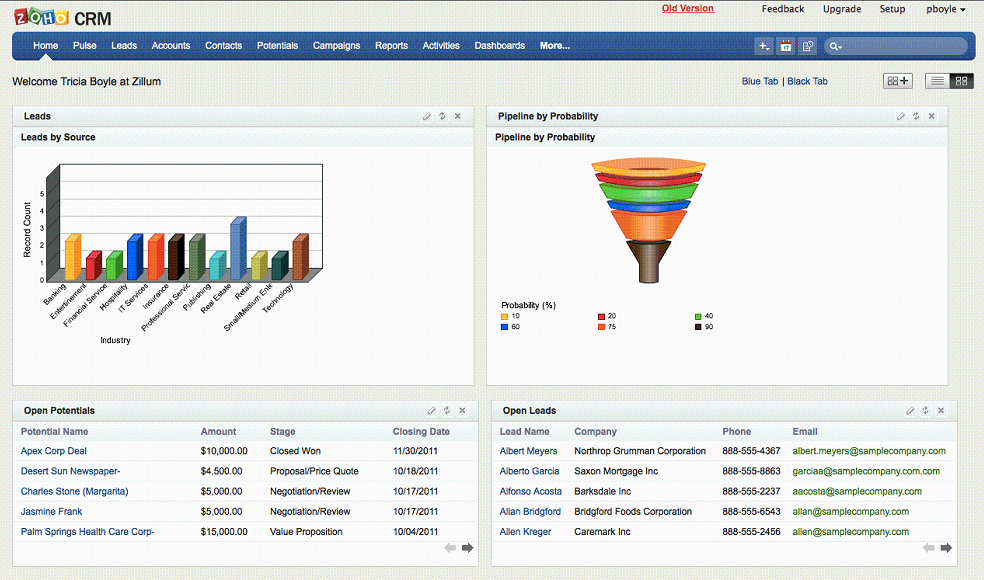 Insightly
Insightly is a popular feature packed online CRM solution that is ideal for small businesses. It provides all the core functionalities that small businesses require and look for in a CRM solution. However, it can easily scale with rapidly growing small businesses. Furthermore, Insightly is a very affordable CRM platform. It offers a free version for startups, which can be later transitioned into any of its paid plans, which are very affordable when compared with other online CRM solutions.