The bathroom is as important a place to focus on, as is the kitchen or the living room. The bathroom is where you will spend a significant amount of time every day. Even if you do not enter the kitchen or the living room, you can be assured that you will be using the bathroom every single day.
When you use an are so often, you may as well make it nice, right? Bathroom designs have evolved dramatically over the last decade and the achieved improvements are remarkable.
These focuses on beauty, efficiency, simplicity and absolute finesse. Bathrooms are one of the main areas in any property. It is hard to believe. But it is true. From the tiles used on the walls to the showering and water system set in place, there are so many choices to be made to make our bathroom a lovely and nice place. The term bathroom or restless is shifting away from its definition of being a private zone dedicated to cleanliness. It is also now towards creating an environment that is pleasant and an absolute delight. With this agenda in mind, people have started spending a fortune on their bathrooms and why not? They shower and spend quality time by themselves in there. There ought to be an atmosphere self-soothing enough.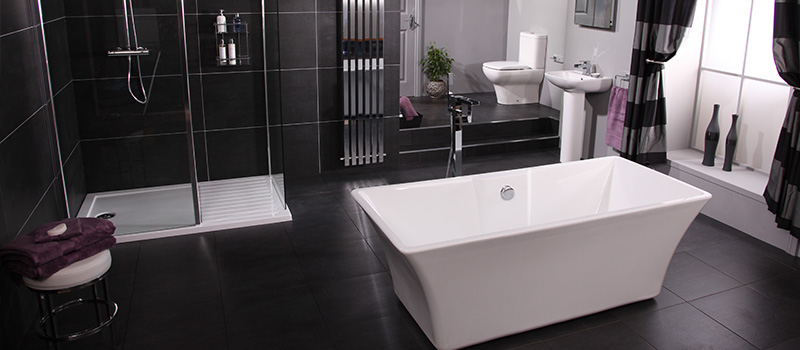 While building or renovating bathrooms, the layout and the colour schemes are two of the many criteria that need to be considered. The layout decides the items and the piping that goes into the bathroom. They also decide the location of the basin, the shower etc. If you wish to have a tub, you can use a layout that can accommodate that. Along with the layout is the colour scheme. This is as crucial as layout. The colour scheme you choose will decide the shades of your flooring, tiles, accessories etc.
In 2017, grey colour schemes are doing quite the rounds. Grey kitchen worktops were previously popular but now, the bathroom has also found traces of grey all over; thus, giving a tough run for the money for the grey kitchen worktops. The latest trends involve the use of grey marble, grey quartz, grey Dekton and grey Neolith colours, to name a few. Each of these materials coloured in grey serve various purposes and have different properties. For example, quartz is one of the most efficient slab to be used as it is resistant to scratches, heat, etc. It is event resistant to UV rays.
Grey colour schemes have come into existence and you can probably find all backgrounds in food photography to be grey. After the mighty classic white, it is now the turn of some grey. Grey colour schemes work great and add a mystic appearance to the place. It can set the bathroom apart from the rest of the house with the simple use of grey colour schemes. The patterns in these materials are so intoxicating to look at that you wouldn't think twice before getting them.