Many foreigners who travel through Italy are actually avid soccer fans and it is a good opportunity for them to experience soccer-related trips in the country. Rome is the best place to enjoy soccer-related attractions and the most common way it to purchase tickets for SS Lazio or AS Roma home games, both are based in Rome. However, we shouldn't delay, because tickets for soccer matches sell out quickly, especially during the weekend. The Stadio Olimpico is the most important soccer stadium in Rome and it's home to both Lazio and AS Roma. Built as a preparation for the 1960 Olympic Games, it could accommodate more than 80,000 people.
Both AS Roma and Lazio regularly positioned near the top of the Serie A and the rivalry between them can be quite intense. So, it is a good idea to visit Rome during the annual derby matches and watching how tifosi face one another could be interesting to watch. So, travellers who have soccer as their life passion shouldn't miss the opportunity and they should go to Rome immediately. However, it is important for them to book ahead. Many local soccer fans are booking popular matches, so we shouldn't risk of being disappointed, by going to Rome and finding out that tickets have been sold out.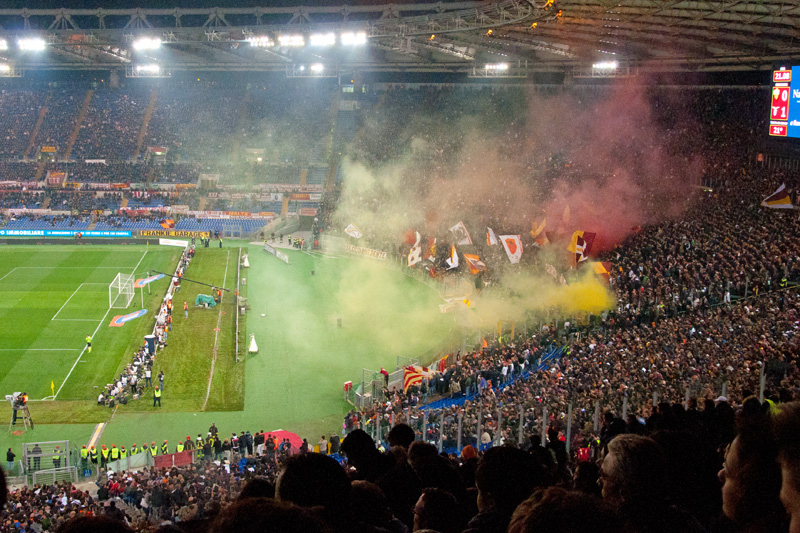 In order to reduce stress and overall costs, we should also book hotel rooms a few months before the match day. This should allow us to lock in the price. Any price hikes and currency dips won't affect us. If we want to travel more effectively, we should plan and book long before we actually get there. There's nothing like being immersed in the atmosphere of an important match day. The whole Rome could buzz with excitement and everyone may talk about it. We should take the easy way and book for services and tickets online if it is possible. There's no way we would get tickets, if the match is only one week away.
Before visiting Rome for those exciting soccer matches, it is a good idea to review both soccer teams. AS Roma was established in 1927 by merging three different local clubs, Roman, Fortitudo and Alba. They had good record and achieved the first scudetto in 1942. Difficult times affected the team after the WW2 and it was even relegated from the Serie A in 1951. However, AS Roma recovered rather quickly and it acquired the UEFA Cup in 1961 and Coppa Italia in 1964. The team acquired two more scudettos in 1983 and in 2000-01.
Lazio is an older club and established in 1900 and a multi-purpose sports club, not just soccer. The team gained their first Coppa Italia in 1958, but relegated from the Seria A in 1961. After some ups and downs, Lazio acquired its first scudetto in 1973-74, when it was led by Giorgio Chinaglia. However, the 1980's proved to be the club darkest years and it was even almost relegated into Serie C in 1987. After 1997, Lazio got its second scudetto, two Coppa Italia and one European Super Cup.