Traveling is a separate piece of life that brings pleasant memories and unforgettable emotions, and when you travel with your beloved ones, positive feelings double.
Sometimes, there's an irresistible desire to pick up 8 passenger van rental in Orlando and visit the most terrific theme parks in Florida with the whole family. However, there are many other amazing places to travel with children, so you shouldn't stick to traditional tourist destinations. Try to expand your horizons and set off to interesting, unexplored places. So, check out 8 unique destinations where you can go with the whole family and have a great time.
Combloux, France
Swimming in the ecologically clean Lake Combloux against the backdrop of the picturesque Mont Blanc is a unique experience that can't be compared even with the most advanced pools in the world.
There's no chlorine and harmful chemicals – the plants serve as a natural filter and keep the water completely clear and clean, and the natural temperature of the water in summer can reach 26°C. After a tour of the alpine pastures and mountain forests, you will want to return to Combloux again and again. Here you can relax with the whole family, and especially this is a perfect spot for your children.
New Forest, England
When going to the English New Forest you will incredibly delight your children. Being in the heart of nature, they will improve their skills in the construction of huts, horseback riding, camping and swimming.
There are specially equipped places to stay amid pristine nature. England's smallest national park has something for everyone, including 3,000 settled ponies, a deer reserve, countless hiking trails and bike paths. Among the entertainment venues for adults are a barbecue and numerous pubs.
Barcelona, ​​Spain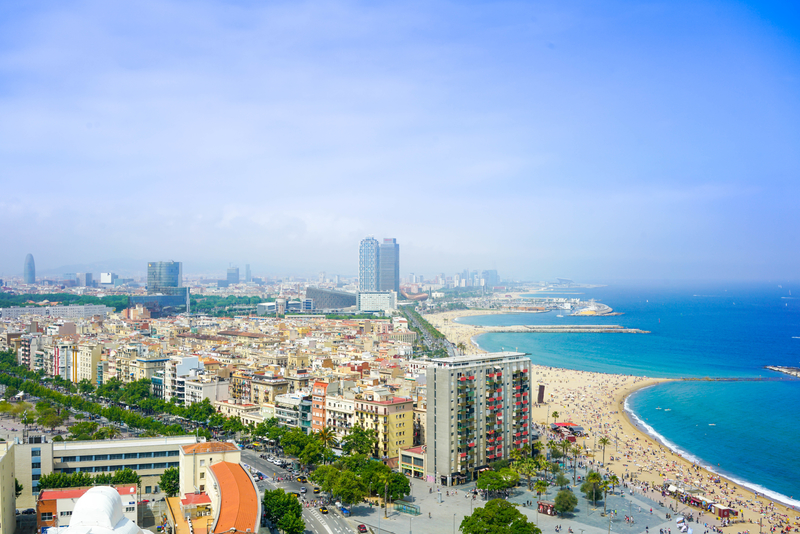 Barcelona has absolutely everything for travelers with children, and most of the entertainment is absolutely free of charge: wandering around the Gothic quarter, relaxing on city beaches, exploring the modernist architecture of the legendary Gaudi and improving your Spanish skills in the La Boqueria food market.
All this means that you can save enough money to buy a family ticket to Camp Nou, where in addition to a football match you can visit the club's museum and go on a tour to the stadium.
Berlin, Germany
City trips are often very tiring, especially if your children travel with you. The only solution is to choose the most family-friendly city and a careful selection of the excursion program.
Berlin is one of these friendly destinations. Book an apartment in Prenzlauer Berg and enjoy walks in the Mauerpark flea market, walks in the Kollwitzplatz, cycling along the banks of the Spree River and relaxing in the numerous cafes that are struggling to focus on family vacations.
Berlin is famous for clean air and beautiful parks, where you can have a wonderful family picnic with children.
Lake Iseo, Italy
You have a chance to experience the warm Italian hospitality in the breathtaking surroundings of Lake Iseo, which is less crowded than its neighbors Como and Garda. You can explore the coast on foot or by tram on the east coast, as well as go on a boat excursion.
Monte Isola is Europe's largest lake island and a unique place for families with children. Cars are banned there, and mostly bicycles are driven on winding roads. The island can be easily reached by boat.
Vermont, USA
Burlington is the best place to start exploring Vermont. You can take excursions around Lake Champlain, and enjoy numerous forest paths on foot or with a Segway. Children will be happy to look out for Champy – the local equivalent of the famous Loch Ness monster, invented by locals to attract tourists.
If you want to relax, simply sunbathe on one of the beaches along the lake. The nearby Shelburne Museum is famous for its impressive collection of more than 4,000 exhibits, including the old Ticonderoga steamboat. Finish your trip on a sweet note by visiting the local Ben & Jerry factory. Children will be delighted with outlandish delicacies and tasty treats.
Olhao, Portugal
Located in the Algarve region, Olhao offers a choice of two beautiful islands where you can have a great weekend with your family.
Magnificent sandy beaches on Armona and Culatra islands are accessible only by boat, which only adds a sense of privacy. The further you go along the coastline, the more deserted they become. These are truly dream islands, where you can relax from the hustle and bustle of big cities, put in order your thoughts and enjoy chatting with your family.
Rhossili, Wales
A long descent down the steps to the breathtaking Rhossili Bay will require unprecedented dexterity for small children's legs, but the descent is worth it: a five-kilometer curved strip of stunning golden sand and a healing Gower microclimate do their job.
Many travelers also come there for surfing, building sand castles and simply sunbathing on the secluded Rhossili beach. Everyone can stay overnight in the Old House of the parish priest located right in the middle of the bay.