"Take my dog…Please." Right. It's not funny unless you were there. It's an old Henny Youngman joke only we replaced the word 'wife' with 'dog.' Right again. It's still not funny. Unless you were there. In other words you have to see the stand up comedian tell the joke or be the funny character in order to truly enjoy the material. You can't just read it on paper – you have to be there. We saw Karina Diglyte doing her stand up routine at the World Famous Comedy store and Hollywood Improv not too long ago. She was definitely much funnier than the long gone Henny Youngman.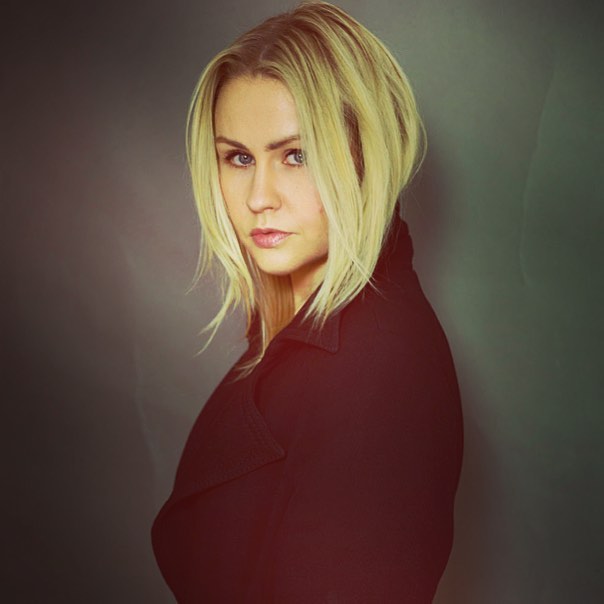 In fact, she was funnier than a lot of living comedians and that's saying a great deal. When she walked out on that small stage she dominated it. She dominated the whole theater, fro that matter. She's tall, she's beautiful she's talented and she is funny! What we didn't realize when we saw her was that we had seen her many times before and just didn't put two and two together. You see she's an actress, a highly trained and highly skilled actress who can play any role, whether it's a serious Chekhov character or a femme fatale or a character who makes you laugh every ten seconds.
Once we started thinking about it we started to remember what we saw her in. Things that bleed, by the BAFTA winning director Simon Giles is was one of them. Fourever was another.  The film was nominated for BIFA Awards and it premiered at the Raindance Film Festival and At the Cannes Underground Film Festival. Karina received rave reviews and she won the Best Actress Award at the Festival International De Cinema Povero in Italy. Some of her other films are: Full Moon, TV series "Rides with Rain",Chasing the Sun, TVpilot "Hustle",Intoxicated, Can Flowers Grow From Concrete?, Mandala, Stan The Man, Safecrackers, Demons and Doors, Morning tea, The Flood, among many more.
While we watched Karina on stage at the Improv we thought about how truly gifted this woman is. She can do anything she wants. She can act and she has a great imagination, which enables her to become any character she is playing at the moment. The thing that is the most impressive about Karina, however, is her ability to connect with other human beings. Not many of us can do it with quite the expertise and familiarity as Karina.