On what do you swipe your credit or debit card every day? Shopping, Dining out, Talk Time, Lifestyle experiences. Whatever the occasion or spend, at the end of the day you want happiness & deserve to be rewarded.
We all are a part of one or the other loyalty & rewards programme but not all loyalty programmes reward us the way we would like to be. Today we'll talk about a loyalty & rewards programme which believes in giving its members "real rewards" – that is free flights with an option to choose them across 1,000+ destinations across the globe!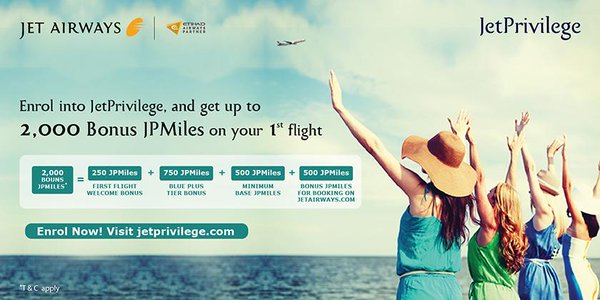 Introduced in 1994, the JetPrivilegeprogramme over time has grown to become one of the most trusted, most respected service brands in the world. In the last 10 years it has expanded as a programme and gone beyond being just a frequent flyer programme to becoming an internationally acclaimed, award winning, global loyalty and rewards programme.
As a JetPrivilege member, you will always travel in a world of benefits and privileges. Through this unique programme, you will earn JPMiles every time you travel with Jet Airways, Etihad Airways and any of our other 25+ airline partners. Not only on flying, you will also earn JPMiles each time you transact with any of our 150+ Programme partners. You can then redeem all these accumulated JPMiles for Award Flights to 1000+ destinations of your choice.
Becoming a JetPrivilege member is easy. There is no membership fees and you just need to be over 12 years of age to become a member. All you need to do is visit our website & enrol into the programme. We invite you to view our programme video as well as explore our website – www.jetprivilege.com to yourself see why JetPrivilege is such a highly acclaimed loyalty and rewards programme.