71 years old Director One of the great Oscar winning directors Martin Scorsese has chooses stars LeonardoDicaprio, Brad Pitt and Robert De Niro for a new short film project.
Daily Telegraph reported that Directors Martin Scorsese gathered all these stars in New York City to shoot the short film, will be used to promote Melco-Crown Entertainments movie themed resort.
And the script of this short film was written by the ScreenwriterTerence Winterwho also early written for the movie "The Wolf of Wall Street".
From other side 50 years old brad Pitt is playing a star role in this short film, he holds his Honeymoon plan for few days. Brad Pitt marriage with Angelina Jolie in France last week, with immediate call from the Director Martin Scorsese Brad Pitt is now in New York City. The ocean's eleven is joined with two top Hollywood stars Robert De Niro and Leonardo DiCaprio.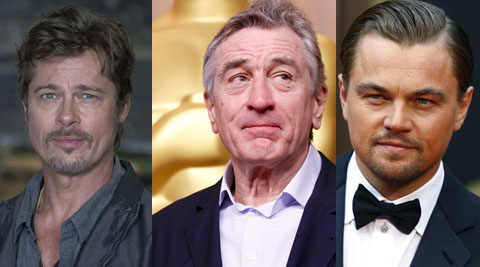 Mr Packer and Lawrence Ho are the executive producers of this short film; this movie will be the premiere of next year opening of their Melco Crown movie themed resort. And Brett Ratner is the producer of this particular short film, he has successful box office hits recently Gravity and the Lego Movie.
Leonardo Dicaprio worked 5 films with Martin Scorsese and Robert De Niro worked 8 films with him, but Robert De Niroand Dicaprio never worked together with the Director. At the time of Leonardo Dicaprioand De Nirodid the movie"This Boy's Life" long ago in 1993. And Robert De Nirowas impressed with Dicaprio acting. And almost after 20 years they are getting close with this short movie again.
And this movie will give Brad Pitt a good break and warm-up for Frank Sinatra movie Martin Scorsese also Leonardo Dicaprio is talking about.
But not so fast this movie is not going to release in the theaters like regular movies, may it sound awesome imagining all these stars together, but unfortunately this movie will be shown at the opening ofMelco-Crown's movie-themed casino resort next year 2015. You will have the chance to watch this movie only if you are in that place by 2015. And it is not easy for everyone to watch shows in the starting.
Maybe we will have the chance to watch this movie few days after the show inMelco-Crown's movie-themed casino resort. And maybe there are planning to release this movie online one after the first show.