The Washington Redskins football team has been a mainstay of Washington, D.C. sports since 1937, when the original franchise, the Boston Braves, moved to the District of Columbia. During the same year, the Redskins beat a George Halas-coached Chicago Bears 28-21 for the team's first NFL championship. The Redskins won four additional league championships, including three Super Bowls. However, none of this would have been possible without legendary players like Sammy Baugh, Sonny Jurgensen, Charley Taylor, John Riggins and Darrell Green. In addition to being recognized by the Pro Football Hall of Fame, Baugh, Green, Jurgensen, Riggins and Taylor are all members of the Washington Hall of Stars and Redskin's Ring of Fame. Any fan of the "Burgundy and Gold" has at least one of these players' jerseys in their closet.
Sammy Baugh (No. 33, Quarterback, 1937-1952)
Sammy Baugh, the team's first drafted quarterback, was drafted to the Redskins from Texas Christian University, where he was also a star baseball player. Baugh is credited with perfecting the forward pass, an innovation that changed football. His 335 yards passing in the 1937 NFL Championship game victory over the Chicago Bears was the most by a rookie, a record that stood for seventy-five years. Baugh was a member of the Charter Hall of Fame class in 1963.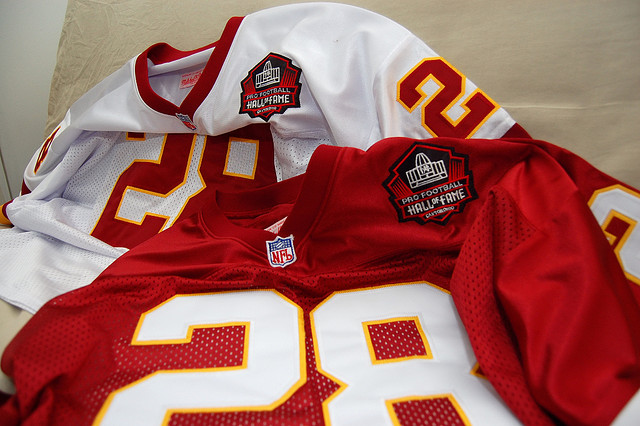 Sonny Jurgensen (No. 9, Quarterback, 1964-1974)
Sonny Jurgensen began his professional career in Philadelphia with the Eagles in 1957, and started playing for the Washington Redskins as a quarterback in 1964. During his seventeen- year professional career, Jurgensen amassed 32,224 yards in passing, 2,433 pass completions and had 255 touchdowns. Although he retired from the game in 1974, Jurgensen can still be heard today on Redskins broadcasts in Washington, D.C., during the season. He was elected to the Pro Football Hall of Fame in 1983.
Charley Taylor (No. 42, Wide Receiver, 1964-1977)
Charley Taylor was drafted from Arizona State University by the Washington Redskins as a running back in 1964 and won Rookie of the Year honors. Switching to wide receiver in 1966, Taylor played a total of thirteen seasons in the league as a Redskin. Throughout his time with Washington, Taylor had 9,110 receiving yards and 79 touchdowns. At the time of his retirement, Taylor was the NFL's all-time leading receiver with 634 receptions. Taylor was honored by The Sporting News as one of the NFL's 100 Greatest Players and was elected to the Hall of Fame in 1984.
John Riggins (No. 44, Running Back, 1976-1979; 1981-1985)
Known to fans as "Riggo" or "The Diesel," John Riggins was a running back for the Redskins from 1976 until 1985. Riggins began his career with the New York Jets in 1971 and came to the Redskins as a free agent. Throughout his career, Riggo rushed 11,352 yards and had 104 touchdowns. He was the Most Valuable Player of Super Bowl XVII, having rushed a record 166 yards in a 27-17 win over the Miami Dolphins. Riggins was elected to the Hall of Fame in 1992.
Darrell Green (No. 28, Cornerback, 1983-2002)
Darrell Green played all twenty of his years in the NFL for the Washington Redskins. At 5'8″ and 184 pounds, Green is often regarded as the greatest cornerback to ever play football. Green recorded at least one interception in nineteen consecutive seasons, the longest streak in NFL history. He shared the record for consecutive seasons with a single team at twenty seasons, until Detroit Lions kicker Jason Hanson retired after twenty-one. He completed his career with 54 interceptions and 1,159 tackles. Green was enshrined in the Hall of Fame in 2008.
Mike Stratton is a freelance writer based in Memphis, Tennessee. If you're a fan of the Redskins, it might be a good idea to take a peek at the native american indian costume selection from buycostumes.com.
Image credit goes to showbiz kids.