The chic, modern woman's dream destination for designer shopping, cozy coffee shops and eateries and more are all available in the magical neighborhood of Neve Tzedek. The main street, Shabazi and others nearby, are lined with everything one could wish for to experience an ideal shopping excursion. If you're seeking to enjoy lunch out with friends or a quiet moment, there are select coffee shops and restaurants that shouldn't be missed. There are also some great places to enjoy a high standard of head to toe pampering.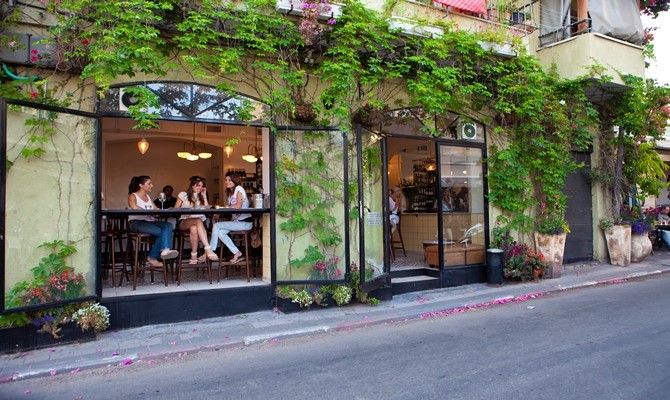 Designer Shopping
Add elegance to your wardrobe by selecting some amazing designer clothes from Neve Tzedek's famed local and global brands including Sarit Bar Zohar, Comme IL Faut, Babet, Petite Doris, Anat Manos, Elise, MIZO, Mayu, and more.
To perfect any new outfit one needs some great accessories. Fear not, jewelry and accessory designers Ronit Jewelry, Shlomit Ofir, Agas and Tamar, Keren Wolf, and Hera Jewellery to name a few are all in the area. You'll also probably want a great handbag to add a dash of pizzazz — head over to Mikanmor on Shabazi. If you need glasses or just want to splash out on new shades, pop into Mishkfym. Don't forget the kids. Babette on Shabazi stocks great designer clothes and accessories for children and babies imported from Europe.
If your trip to Neve Tzedek is for gifts you'll want to visit Ceramics Gallery and for clever souvenirs, retro and nostalgic items and other exclusively designed pieces, a visit to Made in TLV at Hatachana is a must. Perhaps a small facelift to your home is what you need. Add some design with a visit to Hafatzim, which sells the most delightful home décor items available.
If you're eager for some quiet time (or are absolutely starved) grab a good book at A Simple Story on Shabazi 31 and head over to one of Neve Tzedek's comfy coffee shops or restaurants…
Great Coffee & Top Cuisine
The whole range of food that Tel Aviv is famous for is also available in Neve Tzedek.  Add to that the magic of sitting in the neighborhood's dappled courtyards in its Oriental-style buildings enjoying a fantastic meal.
Nina Café is an excellent choice as is the coffee shop at the Neve Tzedek Community Centre surrounded by its gorgeous communal gardens.
If it's more than coffee you need and shopping has left you ravenous, try the famed chef restaurant Popina on Ehad Ha'am on or one of the best meat restaurants around — a Place of Meat on Shabazi.
Indulging Moments
If after all that shopping you need of a bit of pampering and TLC there's no better way to relax at a spa. Book your indulging moment at Lilka wellness boutique (Neve Tzedek 17) or at Rachel Clinic (Neve Tzedek 5).
Now that you're feeling totally serene and looking great, the ultimate in hair couture awaits at Neve Tzedek's high-class salon YBY – Yossi by Yossi. A must have experience!