Blessed with pristine backwaters, lush greenery, wildlife, palm-fringed beaches, intriguing art and culture, tea plantations, Ayurvedic therapies & spa, and heavenly cuisine, Kerala offers an authentic experience closer to nature. Plan a holiday in Kerala and you can never have a dull moment as you indulge in lip-smacking specialties and bask in the pleasure of extraordinary views.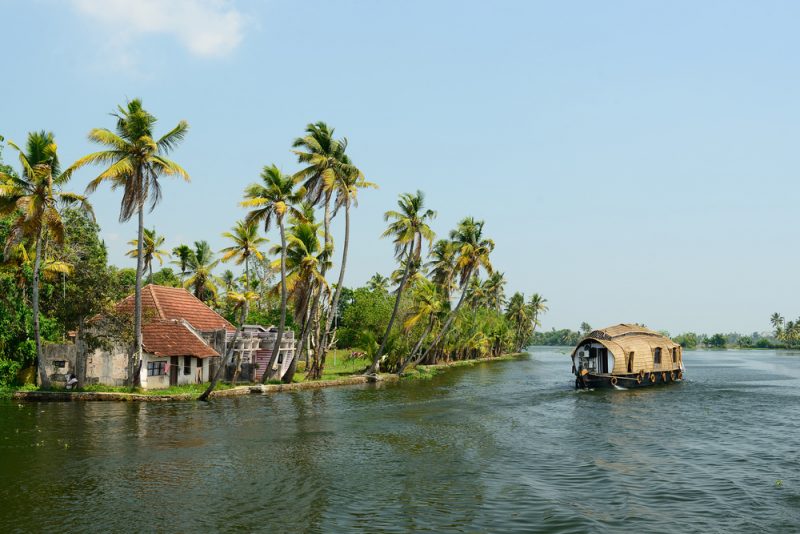 ---
Taj Malabar Resort & Spa
Location: Kochi, Kerala, India
This sea-front luxury hotel is a 45 km drive from Cochin International Airport. And a 20 minute drive from the nearest railway station – Ernakulam South. Nestled on Willingdon Island, Taj Malabar Resort & Spa, Cochin overlooks the natural harbour with Chinese Fishing nets at a distance. The view of backwaters call you to sail out in the sea. Relish a delicious BBQ on a Yacht, experience the Rice Boat dining experience or cruise down the backwaters while discovering God's own Country.  A 24-hour Fitness Centre, infinity pool, Jiva Spa, beauty salon, games room, meeting halls, banquet halls are few of the amenities for a relaxing stay.
https://www.instagram.com/p/Bge61QHgqX_/
---
Taj Green Cove Resort & Spa
Location: Kovalam, Kerala, India
Taj Green Cove Resort & Spa Kovalam, overlooks the Ocean with a lagoon in middle and boasts of sprawling lawns and wooden walkways along the coastline. Beach beds along the coastline will offer you the tranquillity you have been searching. Host important meetings in a glitch-free environment at state-of-the-art facilities for smooth business events. Dip in the infinity pool for a refreshing swim in the morning and head for a late night work out at the 24/7 Fitness Centre. Enjoy a romantic barbecue dinner for two at Bait, a global seafood restaurant and sail off for a romantic Lagoon boat ride with your significant other.
https://www.instagram.com/p/B0QAJXbHO4v/
---
Taj Bekal Resort & Spa, Kerala
Location: Bekal, Kerala, India 
Taj Bekal Resort & Spa, Kerala houses villas and rooms inspired by the design of Ketuvallam houseboats. Lounge in the beautiful and airy courtyards and landscaped gardens at this spa resort in Kerala. Enjoy a view of Kappil beach coastline that flirts with the manicured lawns. Revitalize at Jiva Spa with various Ayurvedic therapies or go bird-watching to go birding and spot the majestic purple heron and magpies. If you wish to put on your boots and venture out further, visit the waterfalls at Ratnakars Farm at a distance of 19 miles from the resort.
https://www.instagram.com/p/B3Q2m2HFJLm/
---
The Gateway Hotel Marine Drive
Location: Ernakulam, Kerala, India
The Gateway Hotel Marine Drive offers a scenic view of the backwaters and the pristine Cochin Harbour. Delight in a sunset cruise in the evening followed by a rooftop dining experience. This hotel in Ernakulam is located at the centre of the city is at a 45-minute drive from Kochi International Airport and a short drive from Cochin's commercial hub. Enjoy grilled seafood and barbequed dishes at Blueflame, and traditional Indian food at Utsav. The holistic ayurveda centre provides rejuvenating experience to improve your physical, emotional and spiritual well-being.
https://www.instagram.com/p/BtU2gmvhkYw/
---
Taj Kumarakom Resort & Spa, Kerala
Location: Kumarakom, Kerala, India
Fondly known as the Little Jewel of Kumarakom, Taj Kumarakom Resort & Spa, Kerala is a lakeside getaway that immerses you in the beauty of crystalline waters of Lake Vembanad. This luxury resort in Kerala serves Mediterranean and North Indian cuisines at Baker's Gourmet House, seafood dishes and snacks are offered at Open Coffee House and premium wine at Easy Bar.
https://www.instagram.com/p/BrPtv2anlWF/
---
Gateway Varkala-IHCL SeleQtions
Location: Janardhanapuram , Varkala, India
Overlooking the Arabian sea, perched on a hillock Gateway Varkala is the perfect retreat for both business travelers and leisure seekers. Luxury, style and comfort come together in this secluded garden resort in Varkala. The hotel is a short drive from the famous 2000 year-old Janardhanaswamy Temple and 2.5 km from Varkala Railway Station. It is about 50 km from Thiruvananthapuram Airport.
https://www.instagram.com/p/B4mrQjrHouH/
---
The Gateway Hotel Beach Road, Calicut
Location: Calicut, Kerala, India
Located in close proximity to the city's commercial hub and not too far from the local sights and sounds, The Gateway Hotel Calicut is the best hotel to relax and inject some fun into your business trip. Spend some time in this seaside destination to discover its many charms.
https://www.instagram.com/p/BTD_tfalOkv/
IHCL properties are located across prime locations of Kerala such as Cochin, Trivandrum, Kumarakom, Ernakulam and Calicut. These hotels and resorts in Kerala are suitable for travelers on a leisure trip or a business trip or families planning for a destination wedding.