Prague is one of the more interesting places to visit in Central Europe and there are places that we can visit. In order to get a glimpse of the older Prague, we should visit the medieval Old Town district. It is known for its gothic skyscraper and baroque domes. It is essentially a sprawling building complex with its highly visible clock tower that was first built in 1410. At the time, it was a showcase of technological marvel, since it also measures the movements of celestial objects. Church St. Nicholas is also an interesting place with its organ and choir concert. The Jewish Quarter is a shaded and cramped block where we can get a glimpse of the once prominent Jewish population in Prague. The Alt-New synagogue is recognizable by its pyramid and jagged roof that seems to saw its way towards the sky. It's a 700 year old worship site and still used for regular services. There is also the huge Old Jewish Cemetery, which is filled with 12,000 bodies. The Prague Castle is a majestic historic site that is located within the city.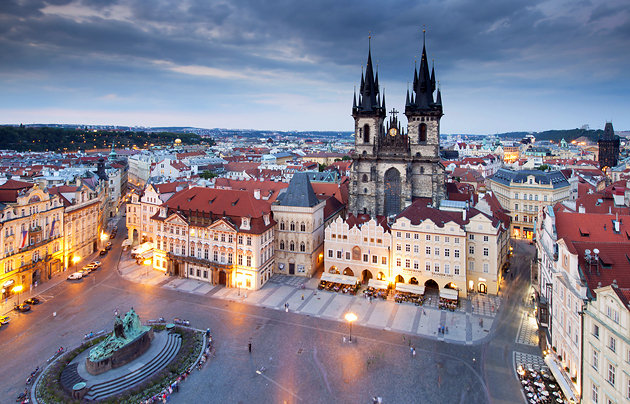 The big castle perches atop a hill overlooking the Vltav River. Its plethora of spires and towers are visible from any open vantage point, from inside the city. Travellers can visit the castle ground freely, but admission is required for entrance into its many palaces and museums. As an example, the St. Vitus' Catedral is known for its kaleidoscope of color-stained glass and vaulted ceilings. The castle is so big that it takes a whole day to properly explore it. As an example, the Old Royal Palace is an open mail gall with intricately woven trims, jewelled chandeliers and bright coats of arms. The White Tower is the protective structure of the Prague Castle, where archers could keep attackers from storming the castle. We could find suits of armor, medieval weapons and there are some weapons that we can try under an instructor's supervision. The Golden Lane is located between the White Tower and Royal Palace. It was once the place of where goldsmiths worked and today, it houses stores for souvenirs, foods and crafts.
Wenceslas Square is located in the New Town and it has a unique art nouveau design, which is a stark contrast to the usual medieval facade of the rest of the city. It is the famous location for the Velvet Revolution when the Communist rule was toppled in 1989. It is now a symbol of the country's encouraging future. The National Museum is a parliament-like building with various interesting collections, related to natural sciences. Nearby, there's the statue of St. Wenceslas, the famous patron saint of Bohemia. When visiting a city, it won't be complete without sampling its special delicacy. Travellers who visit Prague should look for restaurant that serves the most authentic and best gulas. It's a heart and meaty mean with plenty of carbohydrate. Gulas is a staple food among Czechs with its complete offering energy and nutrition. It is essentially a mix of beer-based dumplings, bacon, juicy strips of beef and gooey gravy.