It's obvious within the first seconds of an actor walking onstage, or his first close up on the big screen, if their background includes a true appreciation of the art of acting. By far, the majority of "big names" in the acting world are products of mass appeal and luck. Actors and actresses who possess the skills to create believable and endearing performances etch their presences into time. Fledgling personalities start with a spark of something special, but forgo classic theatrical training to take their chances with the popular media. Sometimes if you have a special characteristic, you can easily work as an actor. But if you want to be great it takes commitment to the craft over time.
The craft of acting involves the development of a special skill set that ensures the awareness of one's surroundings and emotions, no matter the environment. The kind of training, theory and application you'll receive in an actor's studio is universal. By developing your toolkit, you'll be able to draw on your emotions and express them in your relationships between the audience and the cast. If you want to learn what it takes to conquer the stage and screen, it helps to study gifted actors and constantly see film and theatre. Putting your own acting into practice is where an actor's studio comes in.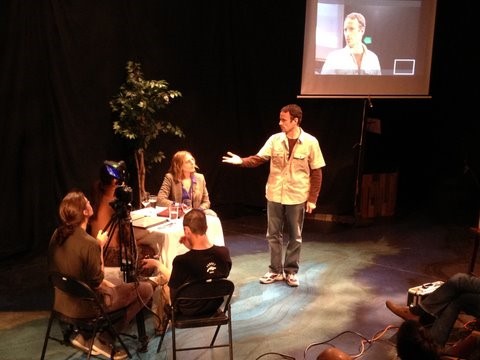 Actors and actresses who are comfortable and successful on stage and screen have an incredible awareness. They understand how to interact with other actors with differing ability levels, the stage as an entire "world" in which to be creative and how to modify your performance based on the audience's involvement. They can internalize a script and the character even while being aware of their surrounding environment. In short, masterful actors have a complete picture of their role, abilities and the space in which they are performing. Very few instructors and companies offer a complete training that is designed to create actors who are masters of their trade. But an actor's studio can help.
Just as other artistic pursuits encourage the discovery of a person's true potential, in-depth instruction revolves around finding the unique talents of each actor. It is these deeply personal and powerful traits that instructors identify and use to develop a student. While most of the world is engaged in finding so-called "talent" that can fill a temporary role, actors need to draw on their own experiences and range even if they're doing a commercial.
Your acting studio will not only be able to give you the training you need, but can advise you on how to take your career forward. If audience tastes change, actors may not know how to change directions. Students who have experienced training for the stage and screen and have some knowledge of the industry can change with demands and always achieve praise for their skills. If you are dedicated to your craft and live in the Toronto area, stop by the Cindy Tanas Actors Studio to talk to an instructor there. Their variety of classes, including their course "The Actor's Instrument," is intended to liberate blocked energy and release a vulnerable, true performance. The training of an actor who desires a lifetime of work should include intense study in the methods of veteran actors, teachers and the human condition.