Why CEED 2020?
Common Entrance Exam for Design or more popularly known as CEED is an entrance examination that is organised by Indian Institute of Technology (IIT) Bombay. Candidate qualifying the CEED exam is considered eligible for admission into the Master of Design (M.Des) course in the different IITs and IISc. However, a valid CEED score does not assure admittance into the course. The candidate may be required to appear for institute level tests like another test or interview for admission.
Examination Pattern For CEED 2020
CEED 2020 is scheduled to be conducted on 20th January 2020. The paper is divided into two parts: Part A containing objective type questions must be solved in duration of 1 hour while Part B aims at evaluating the examinee's drawing, writing and design ability, Candidates will have 2.5 hrs to attempt Part B. For calculating final score, 25% weightage will be given to Part A, and 75% to Part B. Candidates must refer to information brochure for detailed evaluation scheme.
Dates to Remember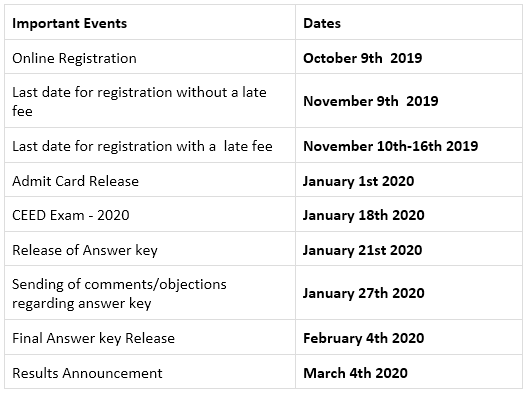 How to prepare for the entrance exam?
There is no specified subject-wise syllabus for CEED 2020. Due to this, there are no particular textbooks for the aspirants to read. But IIT Bombay has released a list of topics that will help students prepare for the examination.
Here is a list of some books that can be referred to in the course of preparation for CEED 2020:
Design Drawing by Francis Ching – This book is the most preferred in the field of design. The author is a well-known educator in the field. This book comes along with a CD-ROM giving students a chance at a better understanding of Multiview, perception and design. The CD gives step-by-step videos by the author explaining free-hand techniques and various lessons.
Perspective from Basic to Creative by Robert W Gill – With this book, the student gets an insight into the three types of perspective in clear and simple terms. The book is a combined edition of two of the author's previous books, e. Basic Perspective and Creative Perspective.
Rendering in Pen & Ink by Robert Gill – This book serves as a basic guide for students of engineering and architecture field. It contains illustrative examples for the students to comprehend the techniques of drawing and rendering.
Perspective Drawing Handbook (Dover Art Instruction) by Joseph D'Amelio – Another book that will help aspirants with various approaches to drawing successfully. It illustrates the principles of perspective drawing. The book is a combination of short and snappy text and approximately 150 illustrations.
In addition to this, the students also need to practice questions from previous year papers and other examples.
Some useful handbooks for practice are mentioned below:
Cracking CEED & UCEED (REVISED EDITION) by Ashok Goel
Ceed (M.Des) Test Series by TRENDZ ACADEMY
NID/NIFT/UCEED/CEED workbook by Ar. Revati Shantanu Parkhi
CEED ENTRANCE by Academy of Fashion & Art
It is important to note that a candidate who successfully cracks the CEED 2020 will be required to present his/her design portfolio in front of the interview panel. As there might not be much time left to do this after the CEED exam, it is advised that the candidate prepare their portfolio beforehand.
Get all details of CEED 2020 Exam like dates, eligibility, application form, and syllabus, admit card, results, preparation tips at https://www.shiksha.com/design/industrial-product-design/ceed-exam