Spilt in Croatia, also known as "The City of a Retired Roman Emperor" is a famous travel destination among backpackers looking for an affordable trip abroad during the summer. Rich in historical, architectural and cultural heritage, the picturesque port city is situated in the Dalmatian coast. Bordered by beautiful beaches and mountains, Split is also a great destination from which you can go island-hopping. Since Spilt has its own airport (Spilt/Resnik Airport), the best way to visit it is by airplane. However, the airport is outside the city center, and therefore, you can choose to hire a reliable Split taxi transfer. It'll only take you about 15 minutes.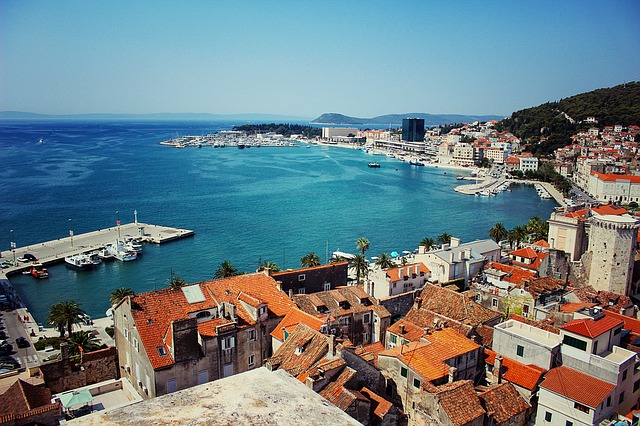 Split is not only an amazing summertime resort with great sailing potential, but also one of the most popular, largest, oldest and luxurious cities on this side of the Adriatic. This gives it a lot of pedigree and charm which you won't be able to find anywhere else.
Majority of travelers who land at airport Resnik are usually heading towards Split ferry port to take a ferry towards one of the many beautiful Croatians islands or they're heading towards some of the popular vacation spots, including but not limited to Makarska Riviera, Trogir, Primosten, Dubrovnik, Rogoznica, island Korcula and Peljesac peninsula. Busy and vibrant, there are several centrally-located hotels in Split that travelers can choose from.
Travelers can see the beauty of the city by going out of their Split hostels and exploring the area by foot. This is a great way to capture thousands of ancient buildings and historical Roman ruins during breezy summer days. With or without the aid of a map, sights like Central Piazza, Bronze Gate and Peristil can all be seen as part of your walking tour. Diocletian's Palace is a major architectural marvel that your eyes shouldn't fail to see. It's a very impressive sight, with a mausoleum and villa, vestibule, and with admission prices that are reasonably cheap.
If you're looking for a more peaceful evening, walk along the promenade and have a late meal at one of the many restaurants selling seafood. Split is famous for its booming nightlife. Bacvice beach has many clubs and bars where live music and outdoor events including free festivals often take place.
Beyond any reasonable doubt, Split has significantly developed from an old Roman town to a great yacht sailing destination. This is due to the fact that several sailing aficionados consider this city as the best starting location to explore the Dalmatian coastline. Chartering a reliable boat/yacht to cruise the Dalmatian coast, where picturesque islands such as Brac, Hvar, Vis and Korcula, etc are just a few hours sail apart. These islands can be easily visited with the local ferry or with a reliable yacht or boat from a local yacht charter Croatia.
You can start out in Spilt and focus towards the southern Dalmatian coast. This location boasts some of the most beautiful wooded islands and warm crystalline waters. Heading further south, you'll definitely pass through the islands of Lopud, Mljet, Vis, Hvar and Brac, just to mention a few of the over 1000 islands found along the Croatian coast. You can also anchor in eye-catching fishing village coves, where you can relax and enjoy attractive views, ashore adventures and great seafood.