There is no doubt that Galesnjak is the place to be for all lovebirds. This small island is found in Croatia and its popularity in causing a great deal of sensation among lovers has spread all over the planet. Galesnjak is tiny and uninhabited. It is also unique in that it lacks natural attractions. Galesnjak is known to be a desert island whose vegetation cover is shrubs. But this never hinders lovers from travelling there to rejuvenate the candles of their love. It is therefore deemed one of the most common islands on the earth currently. Its heart-shape makes it distinct and outstanding. In fact, of all the islands we have on the planet, Galesnjak is the most heart-shaped.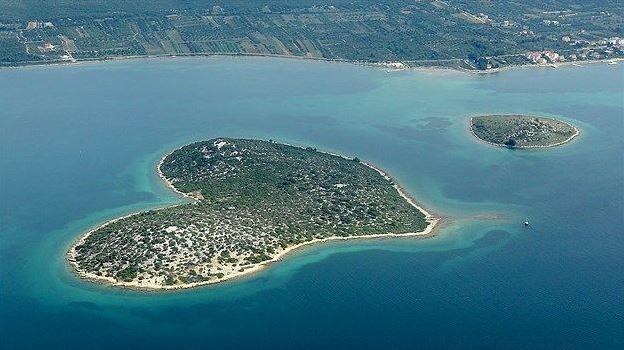 Termed as the Love Island, Galesnjak gained worldwide popularity when its unique heart-shape was captured by Google Earth in 2009. However, the initial record of its appearance was noted by one Napoleon's cartographer in the start of the 19th Century. This material was considered in the Dalmatian Coast atlas that was made in 1806. Galesnjak is among the most fabulous islands along the coast of the Dalmatia and you have all the reasons to plan a visit there. It is a common destination for lovers celebrating their honeymoons, marriage anniversaries, and also young men intending to propose to their darling. The island is characterized by a charm, an almost thrilling atmosphere.
When planning to visit the Island of Love, it is crucial for one to note that here we don't have any form of accommodation amenities. Consequently, tourists who visit the island cannot stay there overnight unless they opt for a camping. However, lovebirds will appreciate the opportunity to enjoy themselves in the serenity of this island and without the interruptions of the public. The best way to enjoy romantic moments with the lover of your heart is by sleeping down in the untamed atmosphere or by swimming in the clear beaches that engulf the island.
Galesnjak is enclosed by blue waters of Pasman channel which is as clear as crystal. This offers a paradise-like feeling which is so magnetic that visitors who access the Island of Love often find it hard to leave. One can decide to camp on the island or spend their nights on the Pasman Island which is nearby, or a fashionable tourist hub called Zadar which is also adjacent to the Isle of Love.
You can freely camp, chill out, picnic, or enjoy romantic moments in the Isle of Love which is a privately owned Island. This will no doubt rekindle the fire of your love. This is a must-visit place in Croatia for anyone that knows the value of a memorable time with their sweethearts. The good thing with the Island of Love is that its shape resembles that of a human heart and offers soul mates quality moments together and enjoys romance. It is important to highlight that we don't have ferries sailing to Galesnjak. However, this should not give you headache as there are options to hire from a local charter Croatia. If you want to visit Galesnjak you can do that by going to either Zadar or Pasman. From there one can hire a boat to the mighty island.