Since the U.S. News and World Report began ranking American colleges in 1994, the School of the Art Institute of Chicago (SAIC) has garnered the number one spot for graduate art schools every year. In 2005, the School of the Art Institute of Chicago shared its top seat with the Rhode Island School of Design and Yale. What does this mean? What makes the School of the Art Institute of Chicago so much better than all the other art schools out there?
If the name didn't give it away, the School of the Art Institute of Chicago is affiliated with the Art Institute of Chicago, which houses one of the largest art collections in the world. SAIC is located in the heart of downtown Chicago, near the museum campus in the area referred to as the Loop. Your SAIC student ID gives you free admission to the Art Institute of Chicago, as well as art museums all over the world. Any student at the school may check out photographs and drawings from the Art Institute of Chicago's collection, and ask to view works not currently on display. For an emerging artist, this alone is a valuable resource.
As with any "good" school, the faculty is distinguished and the facilities are up-to date. What makes the School of the Art Institute of Chicago so impressive for a prospective applicant is the personal attention students receive by the staff. Of all the graduate schools I applied to recently, the School of the Art Institute of Chicago is the only one which bothered to send me a letter stating my application had been received and all the necessary components had made it safely. Not bad, considering it took another graduate school (which I won't name) two weeks after the due date to send me a terse email saying they never received one of my transcripts I literally sent three months before.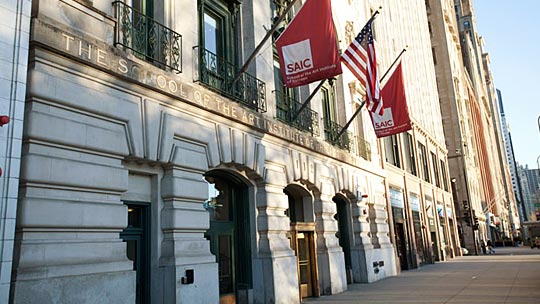 The School of the Art Institute of Chicago's graduate admission process in general seems more applicant-friendly than most. In several places throughout the country, the School of the Art Institute of Chicago holds "portfolio days" for interested students. At these portfolio days, faculty assists students in figuring out the daunting task of preparing a portfolio of work for the application process. To me, this is not only a great recruiting strategy, but says to potential applicants that they want students to be successful and are willing to go out of their way to help.
After my application had been successfully submitted, I received a phone call from someone on the admissions committee, wanting to know if I had questions or concerns about the school itself. The School of the Art Institute of Chicago seems to understand that getting accepted is only part of the hurdle of applying to graduate schools. Picking the right one for you is just as important as getting in.
Along the same lines, the School of the Art Institute of Chicago also hosts prospective student days, at which accepted MFA candidates are invited to come and talk to faculty, sit in on a class, and take an extensive campus tour. The faculty wants you to be absolutely sure of your decision should you decide to attend (and spend an arm and a leg to go there). Instead of a crappy, catered buffet lunch, they fed us Thai carry-out in the MFA writing lounge so we could mingle with attending students and ask them questions.
Registering for classes at the School of the Art Institute of Chicago is also a very personal process. Every semester, graduate students must make an appointment to talk with their department head about what classes they want to take and where they see their work going. The department head can also make recommendations for future course work and suggest advisors. From there, students make appointments with the registration department, where someone personally registers you for your classes.
I was initially skeptical of this registration process; after all, I'm used to registering for classes online and the process taking about ten minutes. Instead of being a pain in the butt, though, the School of the Art Institute of Chicago's registration process was an eye-opening experience for me. When my department head called me for our appointment, he gave me valuable insight to the classes I'd chosen for myself, and let me know I was definitely on the right track.
When it came time to pick a graduate advisor, I had no clue where to start. Since I had him on the phone, I asked my department head for a recommendation. He told me that he had my file in front of him and had read my work and my statement of purpose to prepare for our appointment. That alone blew my mind, because it probably took him quite a bit of time to read through my forty or so pages of material. He recommended a few people based on similar interests and concentrations and helped me narrow down my choice. Although I have yet to meet my advisor, I feel like I know her very well based on what my department head told me.
Aside from the personal approach the School of the Art Institute of Chicago takes in caring for its students' academic and psychological well being, the school provides a different approach than most graduate art programs. Should you feel inclined, SAIC encourages students to broaden their artistic perspectives and become interdisciplinary in their art. Should I have been an MFA candidate in painting at another school, I would spend the next two years of my life painting. Not so at the School of the Art Institute of Chicago. There, I can receive my MFA in writing, but also take classes and produce work in film or sculpture (as just one example). And I'm encouraged to do so, without any administrative red tape or worrying about whether my class credits will count toward my degree.
The School of the Art Institute of Chicago also encourages its students to collaborate. Should a group of people want to pen a play, or a photographer and performance artist document a project, SAIC will help those people come together and give them credit for their work. In fact, they offer specific classes in collaboration for people to find each other and make art.
Let's face it: There are a million art schools out there that will be happy to give you an MFA in your medium, but it is rare indeed that a school will go out of its way to nurture you through the whole process and challenge you to try new things. It's the details that make all the difference in the world, and the School of the Art Institute of Chicago has its details perfected in such a way that can only benefit its students.