One of the joys of spring and summer is getting to go to the beach. You can spend hours swimming or soak up some sun. Though, there is plenty more to do at the beach than go swimming or lounge on a beach chair.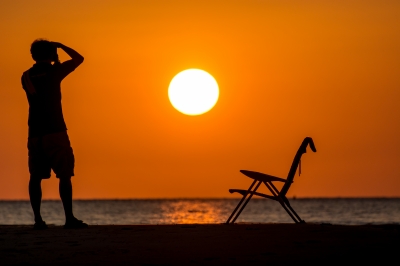 Make a full day out of your trip to the beach. Here then are 5 great ways to spend your time on a beach.
#1 – Play a Group Sport
Get some exercise during your trip. Play volleyball and Frisbee. If you are along the coast of an ocean, you could go surfing or body boarding. Engaging in a physical activity will give you something else to do other than swimming or sitting.
Most beaches have volleyball nets. All you need to bring is a volleyball. A Frisbee is also easy to pack and bring along to the beach. Just make sure that you inspect the area for rocks, logs, and other debris to prevent tripping. You may even find other sports and activities. Be on the lookout for rock climbing or other outdoor activities.
#2 – Shopping and Eating
Depending on the popularity of the beach where you are swimming, there may be nearby vendors, food stalls, street shops, and other options for shopping or dining. Take a walk through the nearby beach town.
Go window shopping or look for a restaurant. If the beach attracts a lot of tourists, then the surrounding area should have plenty to offer. Take a break from the beach and get out of the sun at a local restaurant or shop.
#3 – Boat or Kayak Tours
Check with nearby establishments to find out if there are any companies offering tours. Boat tours and kayak tours are a great way to check out the surrounding coastlines or rivers. You can get away from the crowded beach and explore more of the region.
These tours will typically require registration in advance. If you want to lock in a specific date, you should search online for tours near the beach that you will be visiting. You can take care of all your arrangements in advance. The trips will last anywhere between 2 to 6 hours. Some tours may even last longer, especially if they incorporate scuba diving or snorkeling.
#4 – Snorkeling or Scuba Diving
Find scuba diving lessons or tours being offered near the beach. With these tours, they will typically take you out on a boat, kayak, or canoe. Once you reach a designated area, you will go scuba diving or snorkeling. The tours will begin with a lesson covering basic safety and use for scuba diving or snorkeling.
If these tours are not available at the beach you are visiting, you still enjoy some snorkeling. Purchase snorkeling gear and practice along the beach. If you are staying at a hotel or resort, check the gift shop. You should be able to find what you need. Walk out into the water until it is above your waist. Put on your snorkeling gear and skim the surface, looking for fish or any other signs of marine life.
#5 – Have a Cookout
Some public beaches allow cooking on the beach. They will have outdoor grills or bonfire pits. You can have a cookout and grill up some hamburgers or hot dogs. Pack everything that you need in a cooler. Remember to add plenty of ice.
If you find the website for the beach, you should be able to determine whether or not they allow cooking before you go on your trip. You will probably need to bring everything you need, in case there is not a grocery store or party store nearby.
These are just a few ideas for how you can spend your time on the beach. There is an endless list of things that you could do to occupy your time. You could take photographs. Look for interesting terrain, plants, or even fish. You could also collect seashells. Walk along the beach and look for any unusual or attractive seashells.
Another idea is to engage in one of the most common beach activities – building a sand castle. Bring utensils and tools, such as buckets, scoops, and small shovels. Plan the castle in advance and then go to work as soon as you arrive. Build a moat around your castle so you have a fresh supply of water for making mud. Once your castle dries in the sun, take a photograph to remember your architectural marvel.
You could also take the time to relax. If you prefer to lounge in a beach chair and read a book or close your eyes and rest, then have fun. The idea of going to the beach is to do what you want to do. So, relax and rest, or find an entertaining activity.
Keep these suggestions in mind that next time that you plan a trip to the beach.