Have you ever been to Hong Kong, Asia's World's City? Hong Kong is one of the world's top places when it comes to vacations. From rustic villages to glittering skyscrapers, Hong Kong has a lot to offer. The country is famous for its wonderful shopping experience and modern way of living. Besides, the quick transition from cosmopolitan to bohemian lifestyle is rather fascinating. Here are 5 things that you can do while in Hong Kong.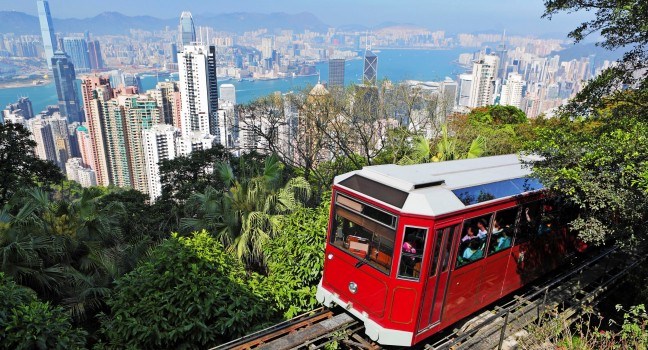 1. Visit Peak Tram
Take a thrilling ride to Victoria peak that is located immensely in a deep location. When booking your travel and tour packages, make sure to consider this experience without fail. This features a rather sporty look while carrying you up to its most spectacular view. Ignore your fears of heights and enjoy a Tram ride that could make you remember the place forever.
2. Visit Macau
You can complete your visit to Hong Kong by taking a day trip to Macau. Just sit back and relax while you sail across the sea from Macau to Hong Kong. Also, you can explore historical sites such as UNESCO and visit world heritage listed ruins of St. Paul's. After leaving your hotel, you can head to the ferry terminal to board a jetfoil or catamaran. What's included in the trip are lunch, local guide, hotel pick-up and drop off and round trip ferry.
3. Visit Disneyland
If you have kids, this is probably the number 1 attraction. It's actually the world's smallest Disney Park but nonetheless, it's good and well recommended. The good thing is that you can easily cover the place within a day. In fact, unless you want to see the fireworks there is no point of staying overnight.
4. Open Top Bus and Shopping
While in Hong Kong, you can also decide to go to open tour bus. You might be familiar with this kind of buses in London but when it comes to sightseeing this is often the best. It operates daily from 10 am to 6 am and it has three routes that you can choose from. These include blue tour, night tour, and red tour. More so, the tour offers are recorded in 18 languages hence, you will not have a problem understanding what is good for you.
5. Visit Famous Wellness and Massage Spas
Hong Kong is famous for its many wellness and massage spas where tourists can get a relaxing massage after long days of walking and sightseeing. If you are looking for a good massage place then you will definitely not be disappointed. These places are not only affordable but they are also good.
Well, all these things make it worth visiting Hong Kong at least once in a lifetime. Furthermore, if you like good food you will enjoy the city more for the kind of food that it has to offer. In fact, while in the city you need to enlighten your taste buds with savory dishes and new flavors. In addition, make a point of visiting its spa so that you can treat yourself massage and bubble birth.