Many spectators enjoy watching college athletes. However, from time to time, athletes are seriously injured. When this happens, some athletes show the grit and determination needed to come back from devastating injuries.
Kevin Ware
When Louisville's Kevin Ware's gruesome compound fracture was broadcast by various networks, people wondered if he would play basketball again. To the surprise of many, Ware played in an exhibition game during the 2013-2014 season. Electing to redshirt, he continues to rehab in preparation for 2014-2015.
Joe Exter
Joe Exter was a collegiate hockey player at Merrimack. Exter was involved in a collision with another player and sustained a fractured skull and brain hemorrhaging. After seven months of rehabilitation and convincing friends and family that he wanted and needed to play, Exter signed a contract to play professionally, and made a miraculous comeback.
Marcus Lattimore
During the 2011 season, South Carolina running back Marcus Lattimore sustained a left knee ACL injury. He rehabilitated the knee and returned for 2012. During the Tennessee game, Lattimore injured his right knee. This time it was a multi-ligament injury. Lattimore underwent surgery, began rehab, was drafted and is currently a San Francisco 49er.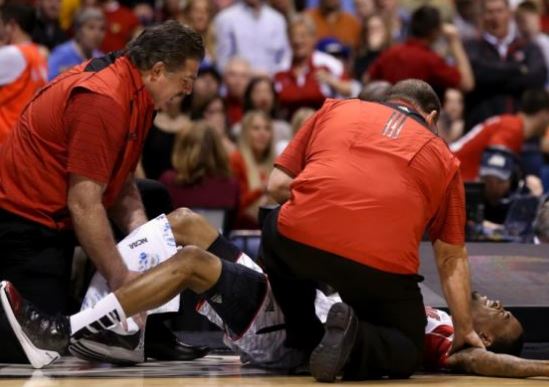 Courtney Kupets
In 2005, Courtney Kupets joined the Georgia gymnastics team. During her time there, Georgia won five consecutive NCAA titles. Kupets won nine individual titles and is the only gymnast to ever win all nine individual titles and the all-around. During this time, Kupets tore her Achilles tendon and sat out a season before returning for her final season at Georgia. After working with talented doctors like specialists in orthopedics in Fort Lauderdale, she was able come back her senior year and finish strong.
Randy Lewis
As an Iowa wrestler, Randy Lewis experienced success. He was a NCAA runner-up his freshman season and a NCAA champion in his sophomore and junior years. He seemed destined for a third championship. Unfortunately, he suffered a hyper-extended elbow. He worked hard to rehabilitate the arm for the NCAA championships. With the arm not fully healed, he still managed to place seventh in his final season.
Mack Waugh
Baseball injuries are usually not as dramatic as those experienced in other sports. That does not mean the surgery and rehabilitation are not as grueling, especially when injured twice. Pitcher Mack Waugh of Florida State overcame a torn labrum and a Tommy John injury but would go on to become a successful middle reliever for the Seminoles.
Many athletes have been faced with severe injuries. With grit and determination, some have overcome the odds. To the delight of spectators, these athletes have returned to the fields and courts again.