Karwa Chauth is a traditional Hindu festival where women keep fasting from sunrise to moonrise for their husband's longevity, safety and well being. This special festival falls during the Krishna Paksha Chaturthi in the month of Kartik, according the Hindu calender. On this auspicious day, Married women wake up early and eat Sargi at dawn. Now you might be wondering to know what a Sargi is. Well, this is a meal which is given by the mother in law. The Sargi is prepared for the Bahu to give her a good wishes so she can complete the fast. The wife observes a nirjala brat on this day ( fasting without even a single drop of water) and Sargi is the only meal throughout the day. An ideal Sargi is a special Thali which consists of delicious sweets and other savories like fruits, dry fruits, Sevvaiyan, gifts of beautiful sarees and jewelries on it. If it's her first Karwa Chauth, she definitely deserves something really great. You must put some serious effort to make the best Karva Chauth Sargi Thali online. There are many online gifts stores in India where you can easily find Sargi gifts.
Though, the fact is that the Sargi thali is delicious but there are some scientific reasons why you should include some specific foods in your Sargi thali.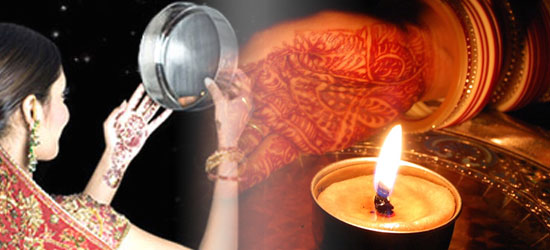 Sevvaiyan and other light cooked foods:
These types of foods preparations are filling and keep you energetic throughout the day. Cooked vegetables and Halwa are often included in the thali of Sargi.
Sweets:
It is always considered to start this holy day with something sweet and delicious. A sweet treat always lifts up the spirit which would really help the women who are fasting.
Fruits:
Most of the fruits come with the water content so consuming fruits would help you to stay fully hydrated during the hours of fasting. And, at the same time, these fruits come with the fiber content so that you can stay full for a longer span of time.
Now this article gives you the idea about the Karva Chauth gifts for your dear wife –
She is keeping the brat for your well being and good luck so she definitely deserves something awesome on this particular day. How about gifting her something that can truly touch her heart in a most romantic way?
A Well Decorated Karwa Chauth Thali:
Your wife is very much dedicated to the puja rituals of Karwa Chauth. So, how about gifting her a well decorated Karwa Chauth thali along with the channi and Kalash. This special gift would help her to manage all the Puja samagree in a proper manner.
A Personalized Cushion:
Nowadays most of the popular online gift stores in India offer personalized cushion that allows you to imprint a loving photo of both of you on it.
A Delicious Chocolate:
She is going to break the fast after completing the ritual and that time she would love to have a big bite on the sumptuous gift that you gift her. No matter where you put up in India, you can easily send a delicious cake online ordered from a reputed bakery.
A Nice Set Of Junk Jewelry:
Name a woman who doesn't appreciate the gift of jewelry from her heart? It's next to impossible. It's not necessary ton gift a costly jewelry, rather you can go for a stunning piece of junk jewelry that will compliment her look in a best way.
Give Her A Nice Dinner Treat:
She is exhausted after keeping this extensive fast so don't let her cook or prepare anything. You can create a surprising moment for her by taking her to a romantic dinner time. Make sure you are going to book a table in a restaurant on an advance.
Now, you might have gotten some excellent Karwa Chauth gifting ideas and it's time to make it a ever remembering day for your better half.