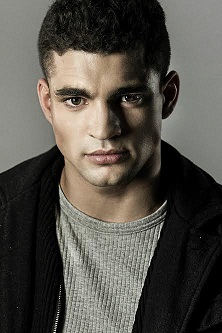 What's with Australia and all the talented actors coming to the US from down under? It feels like there are thousands of those highly polished thespians working in the film capital of the world, Hollywood, and they have been warmly welcomed by producers, directors, fellow actors and moviegoers. If we started to mention the names of all the famous Aussies who have performed in American films we would run out of space after about seven or eight pages. There's Hugh Jackman, Mel Gibson (born in the U.S. but raised in Australia) Russell Crowe, Cate Blanchett, Nicole Kidman, Chris and Liam Hemsworth, Geoffrey Rush, Eric Bana, Heath Ledger, Rose Byrne, Margot Robbie, Hugo Weaving, Simon Baker, Guy Pearce, Toni Collette, Rebel Wilson and Joshua Diaz.
Wait…Joshua Diaz? Oh yeah, he's one of the new wave of Australians who have established themselves as solid actors in both Australia and the United States. He trained in his home country with some of the finest acting teachers and then came over here to attend the Stella Adler Academy of Acting two-year conservatory on a full scholarship. Yes, we were impressed with that also. After all that intensive training Joshua became a professional and has been working quite steadily ever since.
He's been in feature-length motion pictures, music videos, commercials and several TV series. He is an in-demand actor who delivers. He can portray any character he is given with believability and sincerity. Besides his acting career, (this guy must have no time to himself) he models urban clothing brands and footwear and he Emcees live stage events as well. Obviously, he is a well-rounded actor who isn't afraid to take the lead.
Joshua played the character Jared in the TV pilot of Witches and he was Keith Schmidt in several episodes of the popular TV series Neighbors. He was also featured in several motion pictures: The Second Coming of Christ was a story about a woman scientist who discovers that Faith really can bring miracles and Somewhere Over That Rainbow was about young people searching for acceptance while coming out. Joshua was also in Bella, which was written and directed by Stan Harrington, and a horror film titled Tarnation.
Joshua is currently residing in Melbourne, Australia, but plans to come back to the states where he has several projects in development.