One of the top cities of Kerala, the city of Cochin sees a huge number of international tourists every year owing to its international airport. There are many sites to explore in the city and spending a well planned trip will make your trip a memorable one. This article talks about the places to visit in Cochin.
Kerala is dubbed "God's own country", and rightly so, this state is blessed with picturesque places. It's breathtaking hill stations and beautiful cities like Cochin makes one want to revisit it every opportunity it gets. Cochin is an old town/city in the state of Kerala and has been long a major port city where merchants would meet and do trade. The history of it can be seen in the Portuguese and British architecture spread across the city. Of the many places to visit in Cochin, some of them are listed below in no particular order.
Fort Kochi
One of the prime attraction to the city, this area is a definite must see on your visit to Cochin. Undoubtedly the first thing you will have noticed about this place will be the unmistakeable huge chinese fishing nets spread all across the picturesque beaches. A little further away from the beaches you will find beautiful buildings built in the European style of architecture. A walk past down these streets are a delightful experience.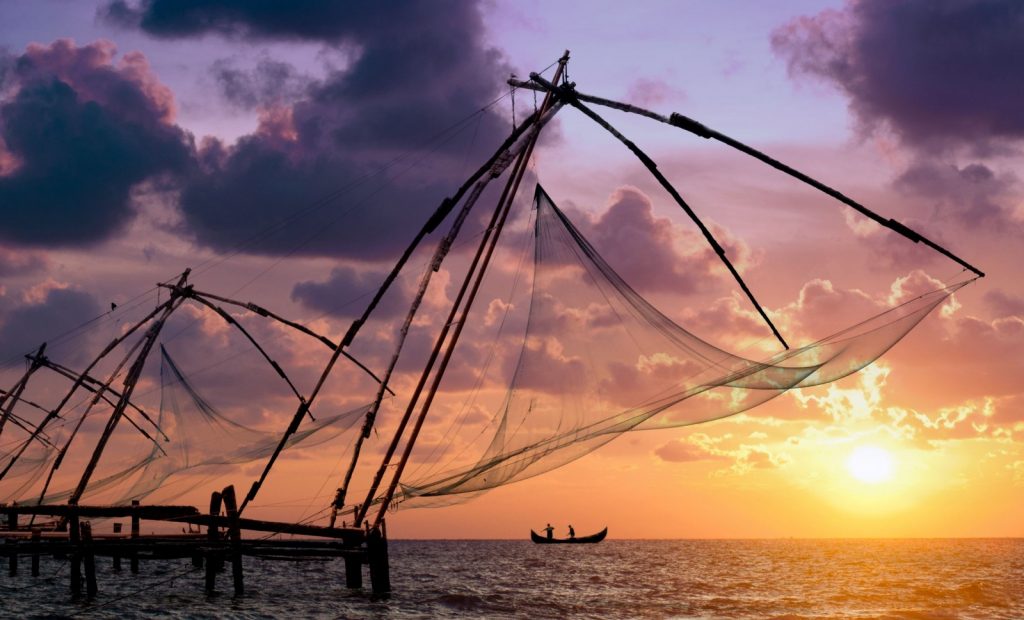 Lulu Shopping Mall
Simply one of the biggest shopping malls in India, the Lulu shopping mall is a multi complex housing over 300 places to eat and shop. Apart from all those, the mall complex also houses a premium five star stay, under the banner of JW Marriott hotels. Secured within the compound of the mall complex, this luxury five star hotel is 20 storey high and has over 300 rooms in total.
The Dutch Palace
Also called the Mattancherry Palace, this beautiful palace is located near the popular Jew town in Cochin. It exhibits a huge collection of portraits and murals of the then Rajas (kings) of Cochin. It was built by the Portuguese in the year 1555 A.D.
Hill Palace Museum
One of the prime attractions of Cochin tourism, the hill palace museum is the largest archaeological museum in the whole state. Built in 1865, it is also the first heritage museum in Kerala and was the headquarters of the then rulers of Cochin.
Jew Synagogue
One of the oldest synagogues not in Kerala or India alone but the whole world, this synagogue was built in the year 1568 and is still very much active. It is located in the older parts of the Mattancherry town and is one of the most visited places by visitors coming in from other parts of the country and the world.
Author Bio: Anjali Gupta is a travel enthusiast and loves travelling to various cities and offbeat destinations. She enjoys writing about her experiences and love sharing information related to travel and tourism.