The new Sea-Doo Spark has revolutionized the way consumers think about personal watercrafts and how they spend their time on water with their family and friends. With the new Spark, Sea-Doo has brought to market a PWC that carries a particular uniqueness, one that draws the attention of new and experienced users.
The Spark is a compact recreational PWC with the innovative intentions of "re-igniting" the watercraft industry. Sea-Doo released the Spark as a fun product that would attract watercraft users of all sorts and get people excited about the technologies that have advanced this recreational sport.
What's New?
Compact Design: What makes the Spark so innovative is its compact design. Its exterior is built with a lightweight plastic that makes the machine only 400 pounds. Compared to other PWCs on the market, this is a remarkable new feature.
Affordability: The new Spark starts at $4,999 — an unbelievable price considering the next line of PWCs on the market are priced at thousands of dollars above that.
Enhanced Maneuverability: The new lightweight design allows for enhanced maneuverability for people of all ages. Family members can all partake in the joy of the ride with the new Spark. A little time on this PWC and you'll be power drifting and pulling off 180s, 360s or even 540s.
Why the Spark?
Affordable: The Spark's affordability is one of the main reasons that it's such an impressive PWC. Upon its release, it quickly grabbed the attention of consumers and PWC reviewers solely based on its cost. Its low price raised the eyebrows of many people looking for an economical watercraft.
Easy-to-Use: Another great reason the Spark is so popular is that it's so simple to understand and operate. With families and new users in mind, the Spark is designed to be an easy and accommodating PWC.
Fun: The Spark was manufactured as a well-balanced PWC, one that will attract many users of all ages who want to have fun. It's not the fastest PWC on the market, nor is it the most luxurious, but for its price and easy-to-use operations it's a guaranteed thrill ride that gives riders a little taste of speed, a nice touch of luxury and a whole lot of fun.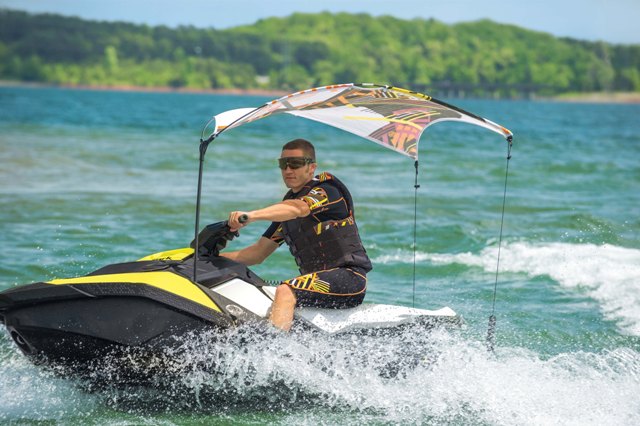 Sea-Doo's Goals
Pump Up Consumers: Sea-Doo really wanted to make a product that would exceed consumers' expectations and get them excited (or "re-excited") to get involved in recreational water sports. Once it dropped on the market, it did just that. People were amazed at its affordability and practical lightweight exterior, which gave consumers an overall great experience.
Remain Innovative: Another goal of Sea-Doo was to remain an innovative leader in the PWC industry — and they did just that with the Spark. It left consumers and other PWC manufacturers wondering just how economical a once-expensive recreational sport actually could be. This certainly will pave the way for future PWC designs.
Cons
Although the Spark has revolutionized the PWC industry, it's certainly not perfect. However, if you look at its target market, it's spot on. New or experienced riders, families and friends looking to have a fun, affordable time with a new PWC have found their match. For those looking for top speed, choppy waters yet all the intelligent features some PWCs have, then you might want to look for another Sea-Doo… just expect to pay thousands of dollars more.
Speed: The Spark comes with the option of either a 60hp or 90hp engine. With 60hp, the Spark only goes up to about 40mph and with 90hp, about 50mph. This certainly isn't slow by any means, but for some recreational watercraft users, this might not satisfy their need for speed.

Lake Use Preferred: Although the compact, lightweight design is a great feature, it also inhibits the Spark from being used on larger and rougher bodies of water, such as oceans. Lakes are definitely preferred, which might not even be a con to you, but to some this may be the deal breaker.

No Brake/Reverse: A safety feature many high end PWCs have is an Intelligent Brake and Reverse (IBR) system. You don't really need an IBR to be safe, since the safety is up to the driver, but it definitely doesn't hurt in an emergency situation.
Overall, the Sea-Doo Spark is an impressive piece of machinery. It's an innovative PWC that only has room to continue to exceed people's expectations with the release of its later versions. Not sure when that will be, but one can only hope it's soon.
Written by Carey Wooldrige, owner of Yacht Club Powersports. Based out of the Lake of the Ozarks, Yacht Club Powersports is one of the leading SeaDoo dealers in the state of Missouri, serving Kansas City, St. Louis, Jefferson City and more!