Nothing can be expressed of Jim Carrey comedy performances; we can also say that there is no other actor who lived in the comedy acting role just like Jim Carrey. Maybe his flexible body is the one which made him so popular in Hollywood cinema industry. His awesome performances in earlier with "In Living Color" made Jim Carrey the popular idol of in a TV Series and still running with the same fame. He was nominated for Golden Globe 6 times and won 2 of them. But there are some movies you may be missed to watch them. Here are some top and great performances of Jim Carrey ever.
Ace Ventura: Pet Detective (1994)
It was released in 1994; Jim Carrey comedy performance was so amazing, after all Ace Ventura, pet detective goes in search for a dolphin mascot of a football team. You will see many variations in this movie of his performances. It was the first movie where Jim Carrey got his own fame of leading role in Hollywood Cinema.
The Mask (1994)
The movie was brought from the TV Animation series and Jim Carrey was an excellent match for the "The Mask" Character ever performed. The entertaining movements only come when the Common, Stanley Ipkiss (Jim Carrey) transforms with a mysterious mask.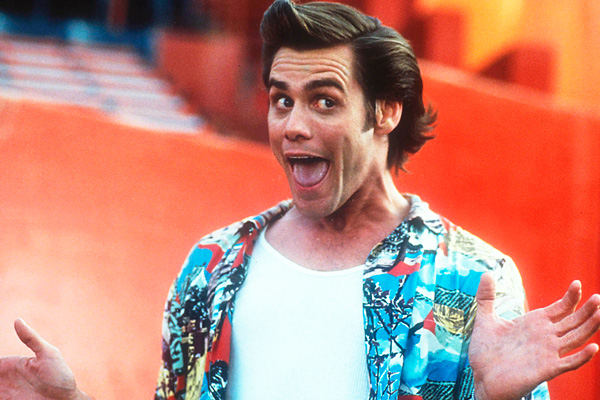 Dumb Dumber (1994)
The before performance Ace Ventura: Pet Detective, The Mask and Dumb Dumber were released in the same year 1994 and he gained Hat-trick success with these movies. The movie Dumb Dumber is some kind different Love entertainment where Jim Carrey and Jeff Daniels goes in search for Jim's love and some funny tragedy makes you go crazy to laugh.
Cable Guy (1996)
The before movie Ace Venture: when the nature call was a sequel and also smash hit but it was the routine performance of the first part Ace Ventura: Pet Detective, but here the Cable Guy once again brought Jim Carrey the different fame, the movie was equally competitor then some top Movies Independence Day, Mission: Impossible, Jerry Maguire and so on.
Me Myself & Irene (2000)
You will never find such crazy performance of Jim Carrey ever, single Jim Carrey suffers from the Split Personality problem. Dual performance with different acting makes everyone goes crazy. You will see Jim's Crazy and flexible performance in this movie. Also, his performance made the biggest box office record in that season.
The above movies are only the crazy performance of Jim Carrey there are some other movies also you must never miss to watch "How the Glitch Stole the Christmas, the Truman show, man on the moon, eternal sunshine of the spotless mind, Bruce Almighty, fun with Disk and Jane and the other movie going to rock this year 2014 "Dumb and Dumber to".