Swiss cuisine is famous for its high-calorie cheeses, potato dishes and, of course, chocolate. But since recently there has appeared a new category of establishments – from mini-cafes to luxurious restaurants, where both city residents and tourists can diversify their food ration with a healthy and easy menu. Perhaps, this trend affected Geneva later than other European cities, but better late than never. So, check out Geneva's 6 restaurants offering outstanding service, reasonable rates, and of course healthy, and tasty food…
Izumi
The menu of this amazing rooftop restaurant is based on the combination of elements of the Mediterranean and Japanese cuisine. From the hall you can admire spectacular views of Geneva skyline, Lake Geneva and the Alps. Among the most popular Izumi's dishes are lobster with a salad of spinach with truffle sauce, stewed sea bass with vinaigrette and beef with seasonal vegetables. The restaurant also offers a rich selection of sushi and sashimi, as well as the original cappuccino with raspberry pie. The cozy and warm interior of Izumi is finished with teak and leather, so when dining there you'll feel like home.
Location: Quai des Bergues 33
GPS Coordinates: 46.206902, 6.147200
Operating hours: 7 days a week 12pm-2pm, 7pm-9.30pm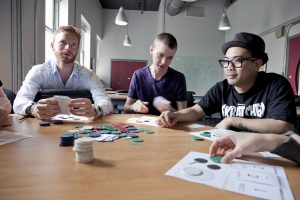 Qibi
Original brown boxes with noodles and seasonal vegetables brought this small establishment popularity and the whole crowd of fans. The place was opened in 2011 at the Rive Droite. Qibi is a smart food restaurant which offers dishes without lactose and gluten, but the food is really refined and interesting there. The menu is experimental, but at the same time very tasty: for example, a salad with pumpkin, goji fruits, pumpkin seeds and raisins with mint sauce and butter or shrimp with brown rice, carrot cream and marinated pineapple with sherry.
The main dish can be accompanied with freshly squeezed juice (the most popular tastes are raspberry and grapefruit), and for dessert – order a delicious gluten-free cake with green tea.
Location: Rue Kléberg 12
GPS Coordinates: 46.207198, 6.145739
Operating hours: Monday-Friday 11.30am-2.30pm, Saturday-Sunday closed
Une Bonne Sante
Une Bonne Sante is situated on a cobbled street in the picturesque Geneva's Old Town. It's recommended to order smoothies from apple and oat milk, pumpkin soup or a sandwich with organic ham and gruyere cheese on a cereal roll in the shape of a heart. This mini-cafe and a health food store also offers lots of original products, including violet mustard and cashew oil, as well as a huge selection of turmeric derivatives, including juice, butter and spice mixtures – real local specialties.
Location: Rue de la Boulangerie 3
GPS Coordinates: 46.201563, 6.145686
Operating hours: Monday-Wednesday and Friday 8am-4.30pm, Thursday 8am-6pm, Saturday 10.30am-4.30pm, Sunday closed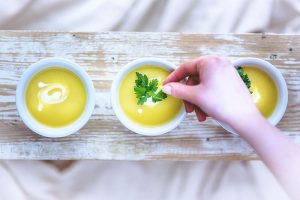 L'adresse Table&Wear
This art studio, which has been turned into a clothing boutique and a restaurant, is quite difficult to notice even passing by it. Behind an unremarkable entrance there's a cozy and quiet space where both locals and city visitors like to relax. Different-style chairs are set around ancient tables, and sun-drenched rooftop terrace provides excellent conditions for relaxing and chatting with friends sipping a bottle of excellent Swiss bio-wine.
The chef Sebastien Schwebel cooks dishes of Mediterranean, Asian and vegetarian cuisine. For example, salad with feta cheese and Spanish clementines, smoked on the spruce branches tofu and buckwheat wafers with orange jam. Don't forget about L'adresse's excellent drinks: alpine cold tea or pear juice with verbena or Swiss organic wines from grapes grown on the shores of Lake Geneva.
Location: Rue du 31 Decembre 32
GPS Coordinates: 46.202996, 6.159998
Operating hours: Tuesday-Saturday 11am-11.30pm, Sunday-Monday closed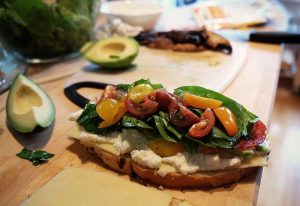 Aux Deux Portes
Aux Deux Portes is a grocery store and an art gallery, but on Saturdays it's a culinary school and a cafe specializing in healthy and very tasty vegetarian dishes. A special daily menu includes tartlets with fresh mushrooms and pate from chickpea beans and foie gras. Desserts in Aux Deux portes are of special interest: taste the tofu cheese with red berries or one of the many types of cakes and pies that are cooked from the poultry and sweetened with rice and pear syrup.
Location: Rue Schaub 11
GPS Coordinates: 46.212571, 6.134226
Operating hours: Monday – Thursday 9.30am-7pm, Friday 9.30pm-3pm, Saturday-Sunday closed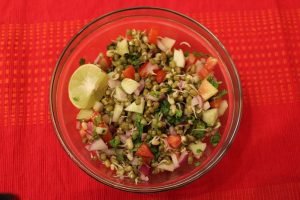 La Bottega
The chefs Paulo Airaudo and Francesco Gasbarro are waiting for you in the warm, cozy and relaxed atmosphere of the La Bottega restaurant! Italian traditions with a modern accent are embodied in dishes that please the eyes and taste! So, if you are searching for gastronomic and visual impressions, La Bottega is what you certainly should try. As an aperitif you can order a refined cocktail, and for main dish it's recommended to taste spaghetti with pesto sauce, pistachios and cabbage, or rigatoni with eggplant and cheese sauce.
Location: Rue de la Corraterie 21
GPS Coordinates: 46.201839, 6.143809
Operating hours: Monday – Friday 12pm-2pm, 7pm-9.30pm; Saturday 7pm-9.30pm, Sunday closed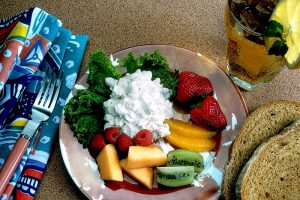 These spots are an excellent alternative to the usual Geneva's culinary establishments. Their menus offer dishes cooked by using of mainly healthy products making these restaurants a favorite place for those who take care of health. So, visit any of these restaurants in case you want to enjoy tasty and healthy food. You can use a rental car in Geneva to reach any place as quickly and easily as it's possible.