Considered to be one of the best topographic maps in Australia, the Hema Explorer is now available to users via mobile devices. The GPS navigation app has been designed for the purposes of planning, navigation and sharing, allowing users to explore their surroundings in offline mode.
The new app can be downloaded on Android and iOS devices, which is featured with the Hema Explorer Map and more than 40,000 points of interest. The app also includes tools to record each trip and it provides users with the capability of sharing all of their adventures with family, friends and other Hema Explorer app users.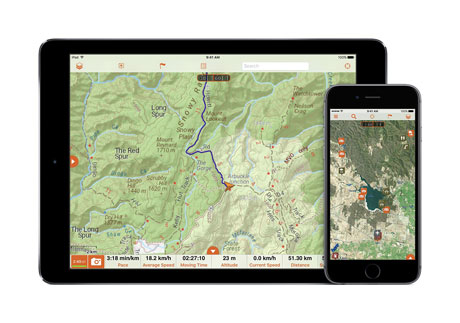 The Hema Explorer app was created by Hema Maps, which is an Australian company that has been recording GPS data on tracks, roads and areas of interest for avid explorers for the past 20 years. The company makes use of expedition field teams in order to keep their data up-to-date, and this ensures that users can navigate areas that might not be accessible on traditional GPS systems.
The latest Hema Explorer Map has brought together the brand's entire database into one, single map. This map covers the entirety of Australia and boasts more than 693,000 km's of unsealed 4WD tracks that span the country. The maps are combined with handy topographical features that include river networks, contour lines, geographic landmarks and much more.
Ultimately, this is a prime app for 4WD drivers, hikers, campers and tourers, and it can now be accessed on a mobile device. As Pierre Kurth, senior cartographer for Hema Maps explains, "The Hema Explorer Map is the most detailed map of its kind in Australia. No other multi-scale topographic map for Australia is as comprehensive, and no other map contains our level of data for regional and off-road areas."
Not only are users able to benefit from offline access, but users can also explore over 40,000 points of interest, including caravan parks, public toilets, campsites, dump points, rest areas, lookouts, information centres, 24-hour fuel stations, wineries, roadhouses and much more. Every point of interest comes with information such as contact details, as well as additional activities and facilities that might be available.
If the comprehensive mapping system was not enough, the app also comes complete with the ability to record each trip, as well as a functional navigation tool. Users can use the tools to create their routes that will then be used offline. They can track their position as they journey and record every step. They can take geotagged photos and drop waypoints, as well as mark any of the places they feel have importance. Users can also view trip statistics, including elevation and speed, which are both graphed over time.
The Hema Explorer can be downloaded from the Google Play Store and iOS App Store for $49.99AU.
Once adventurers have completed their journey, they can transfer their voyages to the Hema Explorer Cloud, which is offered to users for free. The information can later be viewed and edited, as well as shared online. Those who wish to share with other Hema Explorer users can post their trip to the Trip Gallery, which is public. It is here where thousands of users have posted their own adventures and it allows travellers to share, communicate and experience the world through each other's eyes.
As Rob Boegheim, Hema Map's managing director puts it, "the Hema Explorer app is not just a navigation app – it's an all-in-one solution that allows you to plan, navigate and share your adventures using only one platform. Now the app is preloaded with our new Hema Explorer Map, Hema Explorer is the best app available for finding adventure in Australia."
Users who opt for the Explorer Pro subscription on their standard app can unlock even more content, including additional map layers, map sources and premium functions such as the customized map printing feature on the cloud. A subscription to the Explorer Pro can be purchased at $9.99 per month, or $59.99 per year.