Planning a wedding is stressful and expensive. Just when you think you have everything covered—dress, venue, invitations, catering, and music—you might realize you forgot about the bridesmaids gifts! Since a baseball cap that says "Bridesmaid" isn't a viable gift, you need think of another solution, fast.
Luckily, there are options for every budget. Jewelry boxes are bridesmaids gifts that are both affordable, useful, and customizable. If you're curious about what kind of jewelry box you should get your bridesmaids, read on for the most popular selections.
DIY Gifts
Making jewelry boxes for each bridesmaid isn't as daunting as it seems. In just 10 minutes, you can create a personalized box for each one of your girls. Once you find a tutorial you love, you'll be able to quickly craft a number of token jewelry boxes in different colors, shapes, and sizes.
You can make small boxes designated just for rings or earrings, or large boxes with compartments to fit a whole collection. Paint your boxes or create a collage with photos for a personal touch catered for each bridesmaid.
Jewelry Boxes to Suit any Age
You might have bridesmaids of all ages in your party, so you may need to find jewelry boxes that fit their age and jewelry taste. Several jewelry box companies and retail stores carry a number of options, including princess themes for the 15 and under maidens, intricate silver boxes for ladies in their twenties, and understated, luxurious velvet cases for matrons of honor.
Travel-Ready Jewelry Boxes
If you're hosting a destination wedding in an exotic location and you need your bridesmaids by your side at all times, consider helping them organize their luggage and ensure that every piece of their wedding jewelry is accounted for with a travel-ready jewelry box. These soft-sided rolls protect jewelry during travel and fit easily in carry-on bags. Have them lined with velvet or cushioned with air pockets for maximum protection.
Rustic and Homey
Do you live in an area that's known for its oak, elm, or birch trees? Or perhaps your area is known for a certain type of bird or flower? Look to local craftspeople for jewelry boxes that are unique to your part of the world or your wedding location.
You can even find boxes that are embellished with local themes, like seashells for oceanside venues or pressed flowers for regions where wildflowers run rampant.
Consider Your Bridesmaids
Not all bridesmaids have things in common. Sometimes they don't share any interests or characteristics at all! Fortunately, your jewelry boxes don't have to be identical to be an amazing gift. If you purchase boxes based on their individual tastes in jewelry, you'll ensure that every bridesmaid gets something she loves.
For example, your friend with the heavy chain necklaces, chunky earrings, and wide cuff bracelets might need a large, uniquely shaped jewelry box, while the friend who only wears delicate gold jewelry and a wedding band may want something small and ethereal. Though the boxes might not match, your bridesmaids will appreciate the thought you put into selecting a gift that matches their individual styles.
Wedding Theme Jewelry Boxes
Many couples who are planning a wedding select a theme, color, or idea that permeates throughout the day. Incorporate the theme or color of your wedding into the boxes you choose to ensure a beautiful and complimentary gift for all your maids.
Make It Personal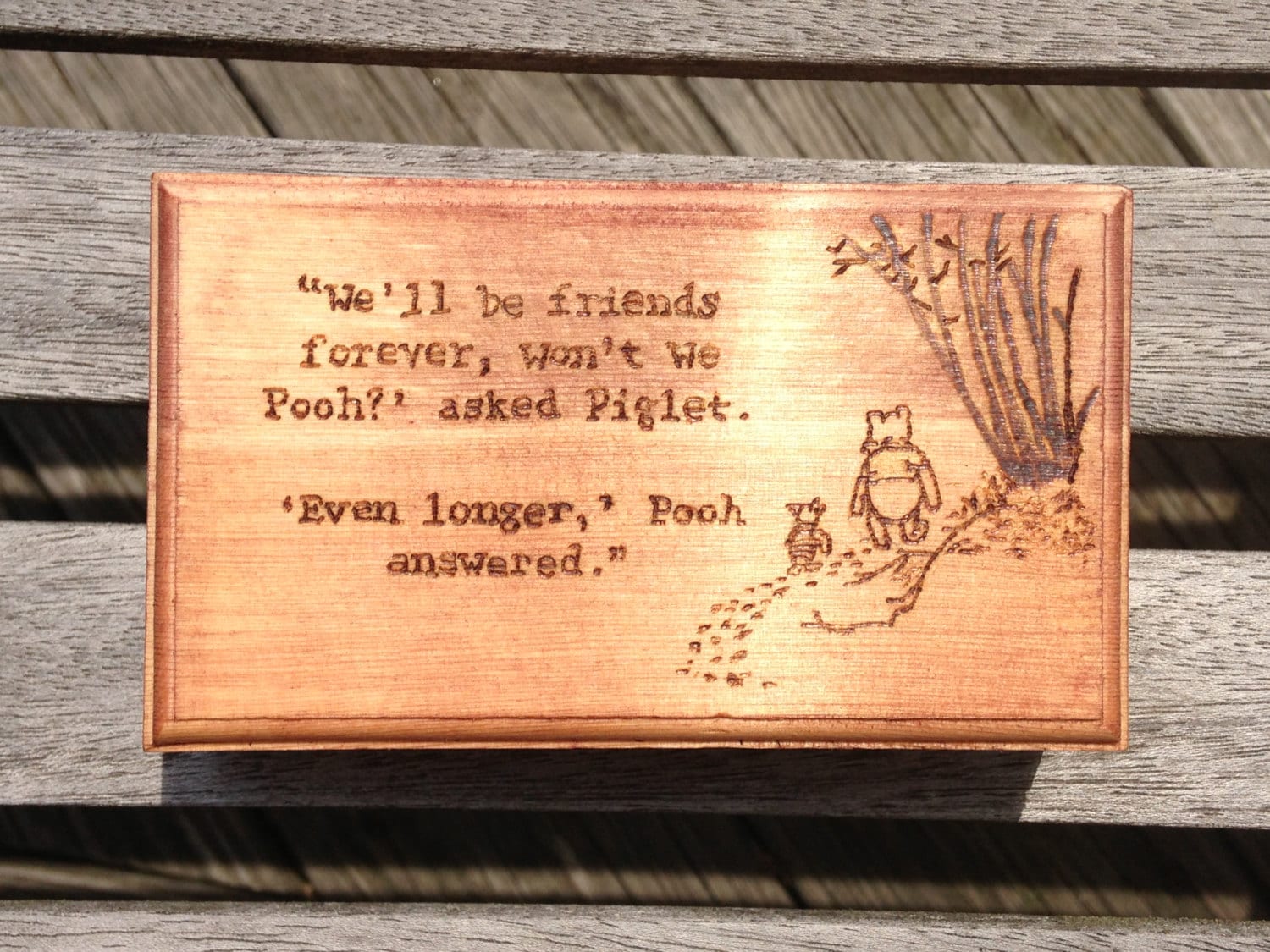 If you want your bridesmaids to remember that this box is from you, you can easily reflect your own interests through a jewelry box. For instance, if you're of Irish descent, you may want to find a box with an Irish blessing or a Celtic knot.
A bridesmaid who's an avid reader, on the other hand, may want to have a meaningful quote engraved on top of her jewelry box gifts.
Musical Jewelry Boxes
Think beyond the childhood ballerina musical jewelry boxes and discover modern jewelry music boxes. You may want to work with an artisan to create something truly meaningful with a tune that your entire bridesmaid group loves. You may also want to personalize the boxes even further with a miniature figure that resembles each girl, along with their favorite song.
Sentimental Memories
If your bridesmaids are a group of close-knit girls, like sorority sisters, a jewelry box with the sorority name, motto, or logo could tie everything together. If your group of ladies is all family, perhaps engrave your last names along the lid of the box. Custom printed jewelry box gifts are available at many online stores to help you personalize your selection.
A Gift From the Honeymoon
If choosing the bridesmaids gifts before the wedding is a little too hectic, you can always shop for jewelry boxes during your honeymoon. Whether you're traveling to an exotic island or staying local, you can check out a jewelry store or online boutique to find special jewelry boxes for your bridesmaids.
An Array of Options
There are so many different options for jewelry boxes that they're an incredibly versatile gift. Whether you choose to make your own, buy them from a store, or commission an artist, you'll definitely find one that's perfect for each bridesmaid. Ensure your best friends know that you care about them and appreciate their commitment to you throughout your wedding with a stunning jewelry box gift.