There is a lot of difference between an Indian trip and Indian luxurious train trip. There are total of five luxurious train tours that are available in the country. They give unique experience, romantic atmosphere and sophisticated vacation while you enjoy many destinations. Luxurious train tours are the ones that are taken on a lavish train with many facilities like television, internet, cabins with attached bathroom, dining car, bar, lounge, spa and many others. The train would take the inmates to various important destinations in India.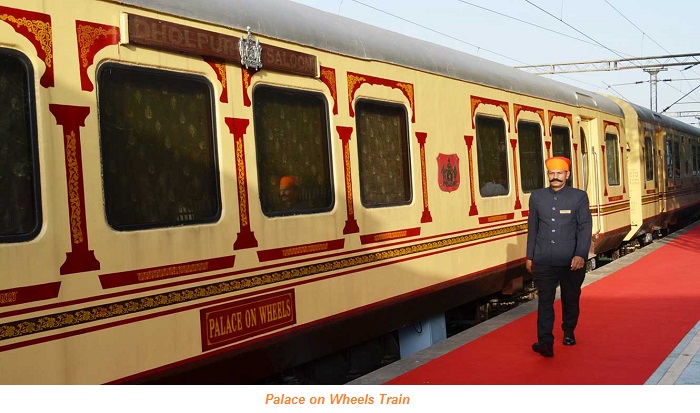 Palace on Wheels
This is the tour that takes you to Delhi, Jaipur, Udaipur, Jodhpur, Agra and back to Delhi. It is a trip that lasts for eight days and seven nights. It is the first luxury train tour in India and has the grace of royal palace. The peak season for this trip starts in October and ends by April. There are 14 saloons, music system, pantries, spa, dining car and many other facilities. Each cabin is allocated with a personal attendant. The train is decorated with royal paintings, antique furniture, mirror work and others. It takes you to important heritage and sightseeing places.
Maharajas Express
This is the latest train added to this list. There are about five different tours that are provided by this train. It has many facilities like cabins with attached bathrooms, well furnished and lavish rooms, dining car and bar, special lounge and many others. Each tour has a different peak season and travel length. Most of the tours start from Delhi except one that starts from Mumbai.

The Golden Chariot
This is the luxury train of South India. This train has luxurious environment mixed with cultural elements.  There are two tours available; both starting from Bangalore. The cars in this train have many facilities like high speed internet, dining cars, lounge, specially furnished cabins and others. You can enjoy a royal time in this chariot. The first tour, Pride of South takes you to Mysore, Belure, Badami, Pattadkal and other important places on the way and ends in Goa. The second tour, Splendour of South starts in Bangalore and takes you to Chennai, Pondicherry, Madurai, Alleppey, Kochi and back to Bangalore. Both the tours take 8 days and 7 nights.
The Deccan Odyssey
This is the train that would take you on a luxurious tour that would help you to enjoy cultural, natural and wildlife attractions. A lot of different tours are organized in this train. The staffs would give you a traditional welcome when you enter the train. The cabins in this train are very impressive and luxurious too. Cocktails and other refreshments would reach your cabin or you can dine in the dining car too. There are a lot of other amenities in this train that would increase the comfort of your travel.
Royal Rajasthan on Wheels
This is an imitation of the Palace on Wheels train Tour. The train gives you a royal hospitality. The tour takes you to many royal and interesting places in India. The train has the decor of a royal palace. There are about 13 royal cabins with many facilities. Lounge, extraordinary suits, souvenir shop, dining car and many other facilities are also available in this train.
Are you interested in taking a royal train tour? Pre-book today as the trains tend to get filled very fast. Have a lavish holiday on wheels.