Marrakech is one of the most enchanting cities in North Africa with its thick Middle Eastern culture. There are wide selections of places that we can visit and enjoy. We could meet friendly locals, eat mouth-watering local cuisines and visiting breathtaking palaces. The most common way to visit Marrakech is through the Menara International Airport, which is just about four miles southwest of the city. Another popular Moroccan city, Casablanca also offers numerous direct flights to Marrakech. Before taking taxi to Marrakech, we should make sure that the driver agrees for an agreed price to go to a specific place and we should check the distance from the airport, so we can make sure that the price is acceptable.
When searching for accommodation in the city, we could go to the Medina district to fine a wide variety of small inns, riads, discount motels and luxury hotels. Expensive hotels in the district provide many excellent facilities, such as swimming pools and first class fine-dining restaurants that serve local cuisines. Adventurous backpackers could choose discount motels, which is located directly inside the city. Another alternative accommodation is riad, which is essentially old grand residences that are converted into inns or hotels. Although riads are more expensive than discount hotels, they provide more genuine feel of Marrakech, some with a feel from the old colonial French era.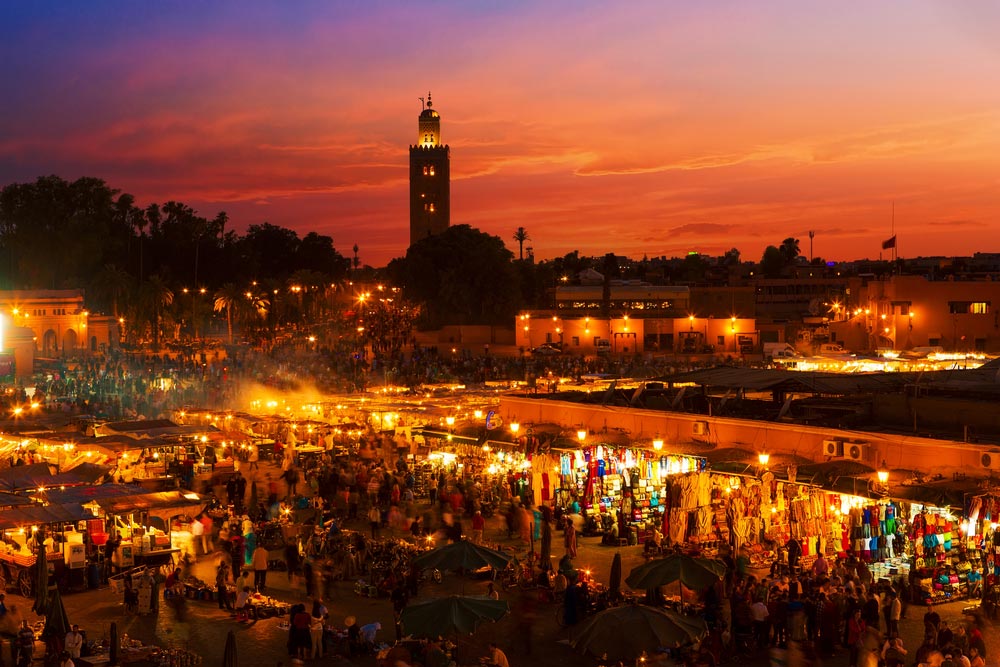 Marrakech is known for its excellent food and tourist attractions. There are numerous squares, palaces, parks, gardens, souk districts, city walls, museums, synagogues, mosques and madrasas that we can visit. Jemma El Fna is a famous square that's packed with food sellers, storytellers, musicians and dancers at night. There's a souk district near the square and it is a great place for any bargain shopper. It is a place to purchase various small souvenirs and gifts, such as fabrics, clothes, bags, shows, jalabas, intricate tea pots and many others. Other places that we can visit are Koutoubia mosque, El Badi palace, El Bahia palace, Youssef madrasa, Dar si Said museum and Majorelle Gardens.
The famous Marrakech city square is known for many food stalls that offer enticing and delicious local dishes. These stalls are originally set up to serve locals since many years ago, so we could still experience a level of authenticity, instead of an artificial, touristy feel of the area. Local dishes in Marrakech city square are generally delicious and unique. Travellers with more adventurous taste could choose goat heads or local snails. Prices could vary depending in the meals, such as small, scrumptious servings for about 10 dirhams and complete, 3-course meal for about 100 dirhams.
It is better to visit Marrakech between spring until late fall. However, we may need to avoid the peak summer during July and August, due to the extreme heat. Even during spring and fall, the heat can be intense during the day and it is preferable to always bring umbrella and cap. Obviously, we should visit accommodation with good air conditioning. People in Marrakech are friendly and honest to tourists, but we should still be aware of some locals of who want to scam and take advantage on tourists. Sellers in the souk district can be quite aggressive when offering their items.