Mount Etna can be reached by bus, but it is preferable to rent a car. Mount Etna is an active volcano, in Sicily, Italy and there are numerous attractions in the area. Gorge of the Alcantara River is one of the most visit attractions around mount Etna. In a simple 20-minute tour, travellers can see the strange rock formations and the river. Travellers can descend several sets of stairs to reach the riverbed. Nearby, there are a number of beautiful hilltop towns that provides impressive vantage points of the nearby countryside. The unimaginably narrow roads around these villages can be both challenging and exciting.
People around Mount Etna are known for their hospitality and it is not uncommon that villagers will invite visitors to their houses for snack and beer. There are many great lookout points in these villages and we could find a few old churches that overlook the whole mountainous area. Seeing different mountaintop villages that perch precariously against jagged, rocky outcrops can be quite breathtaking. Other than villages, the fertile volcanic area also has many vineyard and orchards that we could visit. Local bars around Mount Etna are rather easy going and many of them are very rarely visited by foreigners, so our presence could attract some attention.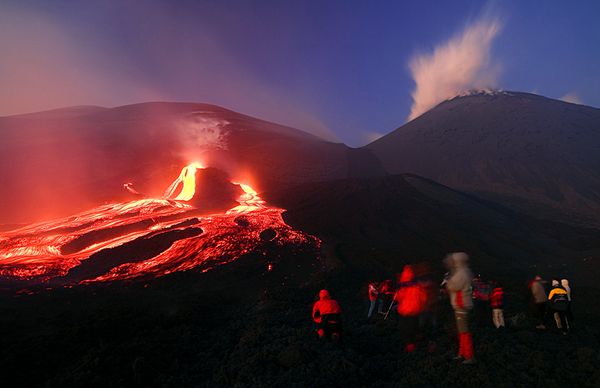 As we drive further into the mountainous area, tree cover will get sparser and eventually, we could see 360-degree beautiful views towards both the sea and the Mount Etna itself. Along the way, we could find hundreds of Sicilians having picnics in various pasture lands around Mount Etna, especially during a holiday. If we decide to have a picnic, we could pick up some drinks, fruits, fresh bins, cheese and prosciutto at local supermarkets and convenience stores. However, we should be aware that the wind the blows on the high mountain can be chilly, but the overall view can be quite gorgeous.
A town that we can visit near the Mount Etna is Randazzo and it has a majestic background of the volcano draped in occasional clouds. The Cathedral of Santa Maria is an impressive structure and it was originally built in 13th century, with numerous rebuilding projects afterwards. It has a bell tower that dates from the 18th century. The Ferrovia Circumetnea is a small-gauge railway that encircles the mount between Riposto and Catania. So, it is also a good idea to take the train ride between the towns to see the scenery and terraced vineyards for about three hours. We should be aware that Mount Etna is located near many towns and a large city, Syracuse; so the traffic in some parts of the area can be enormous.
The waterfront near Mount Etna is also a good place that we can visit, but it means that we will mingle with thousands of cars who want to enjoy the sunny day. Taormina is a coastal resort town founded in 8th century BC by the ancient Greeks and it is one of the oldest early settlements in the island.