Life often presents us with complex and difficult decisions, but visiting Tahiti isn't one of them. It's the kind of decision that any couple should make, especially during a honeymoon. Tahiti is essentially five different archipelago that covers 4 million square kilometres of Pacific Ocean. It is a beautiful corner of the great ocean with delectable cuisine, rich culture, tropical weather and warm waters. Air Tahiti Nui is an airline that can bring us to Papeete, the capital of the country. As we are approaching the runway, we could be awed by the pristine beach, emerald sea, plunging valleys and cloud-draped mountains.
Tahiti is also known for the hospitality of its people and when we arrive at a hotel in the country, we could be greeted with sounds of guitar and ukulele. Smiling Polynesian women in their traditional dress will entertain us with the dancing. Tiare, Tahiti's national flower could be used quite prominently when welcoming visitors. There are a number of attractions in the capital, such as the main market that offers various local handicrafts and other things that may attract tourists. During our stay, the sun would probably never hide behind the cloud, because bouts of tropical rain can be quite rare.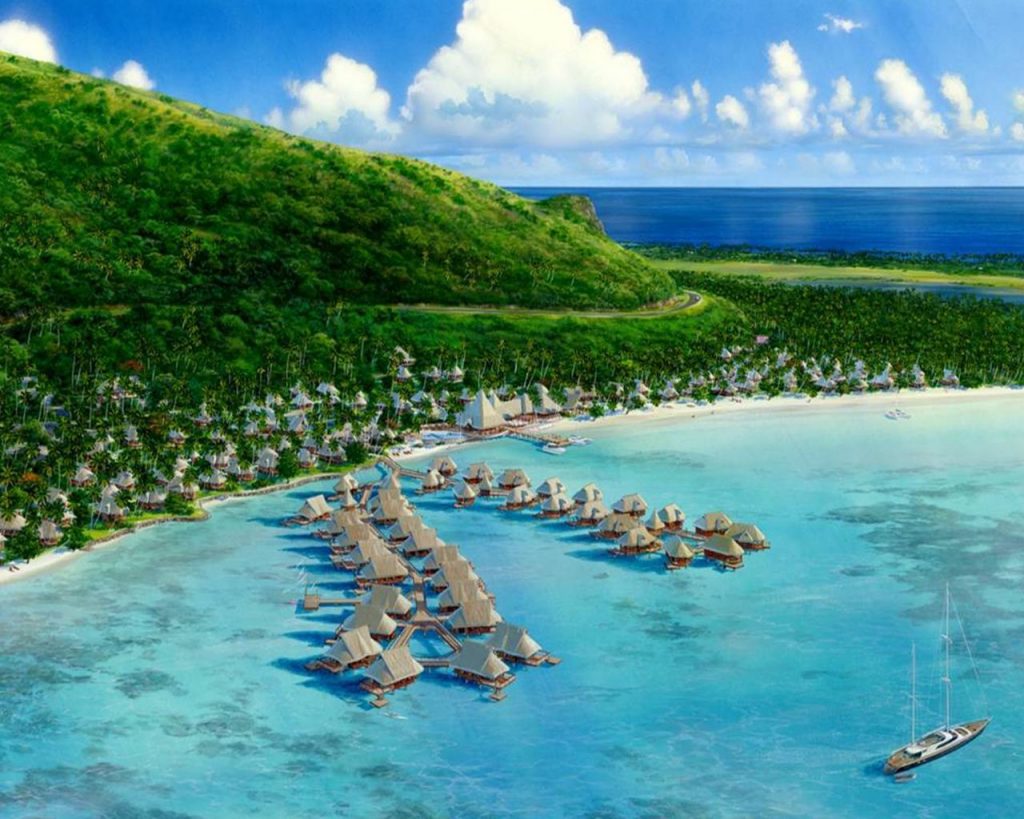 If our idea of honeymoon involves adventure and activity, then we would be delighted to experience the more extreme excursions around Hitiaa, known for its lava tubes. Volcanic eruptions many years ago had forged many channels around the rock that we can pass through. It is now an underground river, where stunning waterfalls continuously gush through many sections. When exploring the rocky areas, we need good, tough and reliable shoes. Because Tahiti is an archipelago, it is a good idea to venture beyond the main island, as an example, Tahiti's sister island, the Moorea. The island is literally good enough to eat with plenty of fruits, such as watermelons, breadfruit, bananas, mangoes, pineapple and papaya. The best sample of fruits should be taken directly from the plant and eaten on the spot.
Moorea is also known for its black pearl boutiques and many visitors think that they can't go home without a black Tahitian pearn encircling their neck or finger. The island is also known for its pristine lagoon where many pearl oysters thrive, offering pears with many colors, like steel grey, shimmering green, reddish bronze and aubergine. The Moorea Intercontinental Resort has a dolphin center that allows us to interact with these sea mammals amid the lush surrounds.
After Moorea, we could use a light plane or boat to go to Bora Bora, which is known for its sparkling blue lagoons, colourful coral garden and velvety sand. A simple scuba diving activity will offer us a rainbow of colourful fishes and Bora bora is simply the country's prettiest island. It is best to experience the island by choosing hotels with water bungalow that offers excellent vantage point. Some of the bungalows even have glass bottomed floor or tablet wit small opening used to feed fishes that swarm under the bungalow. We could enjoy relaxing afternoon in private decks and it is possible to lash out in a canoe directly from the bungalow to explore the lagoon.
Some sandbars in Bora Bora allow us to feed stingray in shallow water and small ones don't usually sting. The feeling of those grey beauties slithering between our legs can be quite indescribable. People who are brave enough could offer raw fish to these stingrays. Local guides could also take us to areas where we will observe manta ray. It is not recommended to go to deeper lagoons of Bora Bora without local guides, due to the presence of some reef sharks. Although these shark species don't usually attack human, it is preferable to be safe and be accompanied with local experts.